A B O U T U S
SOC's Technology Services Unit provides direct, technical support to SOC faculty, staff, and students. Staffed by nine full-time managers and IT specialists, along with several specialized tech support teams (comprised of over 60 part-time lab assistants) SOC's Technology Services Unit is the largest academic technology support team on campus. We deploy our technology support staff throughout the school's facilities that can be found in the following locations:
The Hub (MGC 330N)
SubHub (MGC 325)
Photo Office (MGC 307)
Equipment Room (MPC 11)
Media Production Center (MPC Lobby)
TV Studio (MPC 10)
Check out our YouTube site. Please watch, comment, rate, and suscribe to our growing collection of videos on YouTube about information technology and new media.


F A C I L I T I E S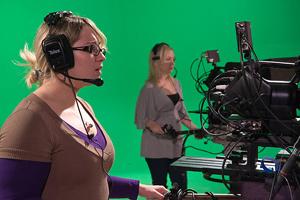 Our state-of-art technical facilities, dedicated exclusively for SOC student use, are divided between two buildings on AU's main campus, the Mary Graydon Center and the Media Production Center. SOC's students have access to many of AU's tech facilities as well as the following in MGC and MPC:


MARY GRAYDON CENTER
 
Six Mac-based computer labs
 Two 30-seat, audio-visual enabled classrooms
 Two traditional photography darkrooms and a print finishing room
 An intimate 107 seat, multi-format exhibition theater

MEDIA PRODUCTION CENTER
 
Thirteen private digital video editing suites
Four digital radio production suites
A multi-format, audio-visual enabled classroom

A computer-based digital newsroom
A large, three camera television studio and control room

A fully-provisioned media production equipment room

H A R D W A R E
From Aaton Super 16mm film cameras and medium format Hasselblads to Panasonic 24P DV camcorders and Nikon D80 digital SLRs, SOC maintains a wide range of production hardware to help serve our students' varied media production needs. Home to much of SOC's media production hardware, the Equipment Room (ER) features the following:
 
Aaton, Arri, and Bolex 16mm film cameras
JVC, Sony, and Panasonic DV25 camcorders

Sennheiser, Electrovoice, and Neumann microphones
Arri and Lowel lighting instruments

Fostex and Marantz digital audio recorders
Manfrotto and Miller tripods

In addition to the Equipment Room, our students have access to a great variety of production equipment in our computing labs, media editing suites, and photo office, including the following:
 
HDV and DV25 VTRs
DVD players and recorders
35mm film and graphic arts scanners
Large and medium format film cameras
Nikon digital SLRs
Panasonic and Canon digital cameras
Apple and Dell workstations

Epson inkjet color printers

S O F T W A R E
Beside the standard Microsoft Office applications, SOC's computing labs and editing suites feature a variety of more specialized software applications. For web authoring, graphic design, and digital imaging, we maintain the latest versions of Adobe's Creative Suite.



For our Film and Media Arts students using our Mac computers, we feature Apple's Final Cut Pro Studio (FCP) for their audio, video, and motion graphics production needs. FCP Studio includes the following applications:
 
Final Cut Pro
Soundtrack Pro
DVD Studio Pro
Cinema Tools

SOC's Journalism and Public Communication students using our Windows facilities can also use the following software applications:
 
Avid Newscutter XP
Adobe's Audacity
Associated Press's ENPS
SPSS
User Manuals - Final Cut Pro 7 | DVD Studio Pro 4 | Compressor 3 | Motion 4
S E R V I C E S
The SOC Technology Services Unit provides the following services to the school:
 
Faculty/staff computing and printing support
SOC computer lab scheduling and maintenance
Classroom audio-visual support
Technical training and support
Web development and production
Web hosting and networked file storage
Graphic design and photography
Tape and DVD duplication
Equipment maintenance and distribution
If we can't fix your problem or provide the services you need, we'll do our best to make sure we refer you to the folks who can.


P O L I C I E S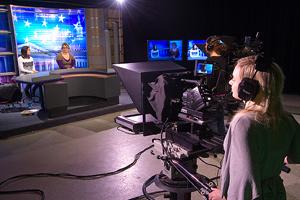 Generally speaking, the SOC Technology Unit's operating policies are geared toward meeting or exceeding one overarching goal: Providing superb technology to as many users (students, faculty, staff) as possible. We are constantly evaluating and re-evaluating our specific operating policies, practices, and procedures to ensure we can meet or exceed that objective on a regular basis.
The following are examples of policies and procedures we have in place:
 
Food or drink is not allowed in SOC technology facilities
SOC facilities are reserved specifically for SOC students
Repair of SOC equipment is performed only by qualified staff
Scheduling computer use in SOC labs and editing suites is recommended
Technology support requests should be submitted to the SOC Techline
To learn more about our policies in specific technical facilities (like our Equipment Room, Wechsler Theater, or Computer Labs), please visit those facilities' Web pages.


H E L P
The SOC Techline, SOC's technology helpdesk operation, is located in The Hub in MGC 330N. It is open Mon.- Fri. 9-5. For help, please call x3570, e-mail us at soctechline AT american DOT edu, or just stop by the Hub. Walk-ins are always welcome.
The staff at the Sub-Hub are also available for assistance. It is open Monday -Thursday: 8 AM to 11 PM, Friday: 9 AM to 5 PM, and Saturday: 10 AM to 5 PM.