Pre-Election Panel Discussion
Wednesday, October 15, 2014 at 5:15 PM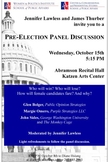 Join our experts as they forecast the 2014 races:
Who will win? Who will lose? How will female candidates far? And why?
Glen Bolger, Public Opinion Strategies
Margie Omero, Purple Strategies LLC
John Sides, George Washington University and The Monkey Cage
Light refreshments to follow the panel discussion.
Please RSVP by October 8th to Diane Hsiung at dianeh@american.edu or (202) 885-2903.