AU Experts Analyze the 2014 Election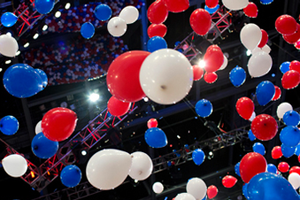 Thursday, November 6th at 12PM
Kay Spiritual Life Center
Join CCPS, WPI, and the Kay Spiritual Life Center for an analysis of the 2014 Midterm election results. Discussion will include the following panelists:
Anna Greenberg; CCPS Research Fellow and Senior Vice President of Greenberg, Quinlan, Rosner
Jennifer Lawless; Professor of Government and Director of the Women & Politics Institute
Candice Nelson; Professor and Department Chair of Government and Director of the Campaign Management Institute
Molly O'Rourke; Executive in Residence, School of Communications
Panel will be moderated by James A. Thurber, director of the Center for Congressional and Presidential Studies, and distinguished university professor.
Lunch will be served from 12:00-12:20 in the Kay Lounge. Panel will take place in the Kay Chapel at 12:30.
Please RSVP to ccps@american.edu or (202)885-3491