Government & Politics
Sen. Udall Says Senate Is an Institution in Need of Reform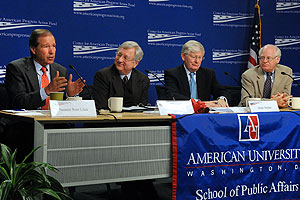 Sen. Tom Udall didn't waste any time making his feelings about the filibuster and current state of the U.S. Senate known.
"The way I see the institution is it's in need of reform," the New Mexico Democrat said. "With the rules we have we have given the minority the power over the will of the majority. The world's greatest deliberative body is turning into a graveyard of good ideas."
Udall was the keynote speaker at a March 12 forum entitled "From Deliberation to Dysfunction? Evaluating the Modern U.S. Senate and its Contribution to American Governance."
The discussion was moderated by James Thurber, director of American University's Center for Congressional and Presidential Studies, which cosponsored the event with the Center for American Progress Action Fund.
One of six children of Stewart Udall, a former congressman and secretary of interior in the Kennedy and Johnson administrations, Udall joked that he was born with a defective gene because he alone among his siblings has sought public office.
When he arrived in the Senate last year, Udall found a body that he believes is paralyzed by partisanship and arcane rules, including those that govern the filibuster. For decades there has been a general acceptance that a 60-vote supermajority is needed to pass legislation in the Senate.
"That's not written in the Constitution or the rules anywhere," Udall said. "Some from both sides of the aisle have used it as a weapon in the past. The ideologically polarized [climate] today makes the filibuster more problematic than it's been in the past. The time has come to address rules reform. I intend to lead that effort at the start of the 112th Congress."
Udall said he plans to lead a fight in January 2011 to pass a set of rules on a simple majority rather than the two-thirds supermajority that today is required.
"We don't have to make drastic changes, but we can modify the filibuster in ways that protect minority rights," he said.
Repeatedly Udall noted that the Constitution only specifies seven instances in which a supermajority is required in Senate.
"If you are interested in reform, the key is the Constitution," he said.
But it's far from a foregone conclusion that most of his Senate colleagues share his enthusiasm for change. The last time the Senate passed major alterations to its rules was in the mid-1970s.
"[That] the Senate is broken is a very standard diagnosis," said Scott Lilly, a senior fellow at the Center for American Progress Action Fund.
He pointed to its failure to pass authorizations, appropriations bills, and confirm presidential appointees as proof that the body is malfunctioning.
"That's the cost we pay for just for the minor day-to-day functioning of the Senate," he said. "That needs to change."
More than 80 percent of all legislation and nominations are subject to delay in the Senate, Udall said.
"People ask me, 'What happens if your party is in the minority?'" he said. "As a senator I want to have the ability to legislate regardless of whether I'm in the minority or majority. Shouldn't the minority [focus] be the well being of the country and not its party?"