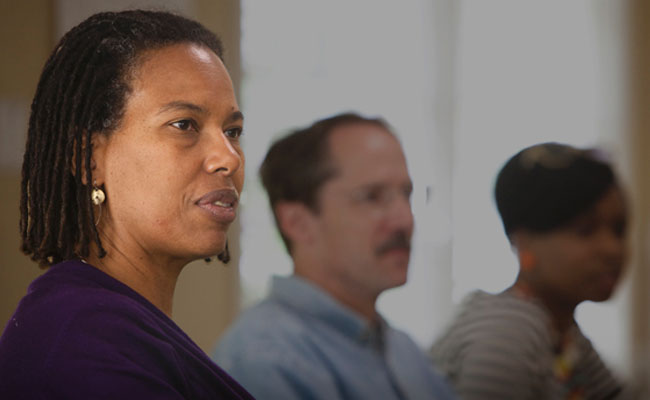 The AU MSOD program provides a rigorous academic course of study enhanced by experiential learning and practical application. The curriculum is designed to educate scholar-practitioners in the field of organization development. For more than thirty five years, MSOD graduates have been recognized for being grounded in theory and skilled in practice.
The program's unique strengths draw from a 30-year partnership between AU and the NTL Institute, as well as emerging theory and practice. AU MSOD instructors are leading scholar-practitioners in OD.
There are four cornerstones that characterize the AU education in OD:
Intentional use of self in professional practice
Effective leadership and dynamics in groups and teams as foundations of sustainable change
The principles of action research to promote change at multiple levels of a system
Commitment to values, diversity, and cultural competence in engaging a system
Courses focus on competencies, skills and knowledge in: theory, action research, process consultation, facilitation and intervention, diversity and cultural competence, and intentional use of self.

Learning throughout the program is related to each student's personal interests and career goals. Students are challenged to explore their worldview and to exercise curiosity and respect for the worldviews, diversity and values of others.
Course Schedule
The AU MSOD consists of 11 courses (33 graduate credits) over approximately 21 months. The program rarely makes changes in the master schedule. If you are unable to complete a course with your cohort, you will be scheduled to take the course with another cohort. Such shifts, when necessary, may delay your graduation date and can affect your financial aid awards.
Each course is taught over two months: 2 weeks of preparation, two 3-day weekend class meetings a month apart, and 2 weeks of follow-up. One Residency course happens in each year of the MSOD program: the 6-day Use of Self Residency in the middle of Year 1, and the 10-day International Residency in the middle of Year 2. Two cohorts begin each academic year; one in fall and one in spring.
Course Descriptions
Introduction to Experiential Education and the Learning Community (PUAD 010)
An introduction to the concepts and practice of experiential education. The group learning process is used to acquaint students with the core learning philosophy of the MSOD program and to support students in working with the assigned facilitators to maximize learning during their monthly "Learning Community Time". Note: required orientation for the M.S. in Organization Development. No credit given toward degree requirement. Must be taken pass/fail. (non-credit)
Introduction to Organization Development & Change (PUAD 677)
This course provides an overview of the Organization Development approach to change in human systems. Topics: foundational and emerging theories and theorists; core concepts, tools, and practices; ethics and values; use of this knowledge in multiple roles (consultant, manager, change agent); leadership & OD; adult learning theory. Usually offered every term. (3 credit hours)
Organization Theory & Diagnosis (PUAD 642)
This course introduces a broad range of research and theory about organizations and applies these to the task of understanding and diagnosing organization dynamics. Through cases, lecture and experiential activities, the curriculum builds capability to address such factors and forces as organizational goals, structures, politics, power, culture, environments, and mindsets. Usually offered every term. (3 credit hours)
Methods & Models of Change (PUAD-648)
This course examines major models and methods used in organization development and change. Topics include action research, process consultation, and team building; social construction, positive organizational studies and appreciative inquiry; large group and systems interventions; complexity sciences and self-organizing principles; organization discourse and dialogic interventions. Usually offered every term. (3 credit hours)
Use of Self in Professional Practice (PUAD-643)
This one-week residential course draws on the applied behavioral sciences to build knowledge, skills, and awareness for effective use of self in OD practice. Topics: self-reflection, feedback, facilitation, conflict management, dynamics of diversity and power, individual behavior; and how one engages such topics in groups and professional settings. (3 credit hours)
Applied Research Methods (PUAD 641)
Using cases, exercises, and drills this course establishes the essential role of research methods in the professional practice of Organization Development and change. The course equips students with competencies in qualitative and quantitative methodologies for data collection, techniques for analysis and interpretation, and capabilities to present analytic output in reports. Usually offered every term. (3 credit hours)
Consultation & Coaching Theory & Skills (PUAD 646)
This course focuses on theory and practice of consultation and coaching in OD and change. Topics: roles and skills for change practitioners (internal/external consultant, manager, leader); process consultation; stages and tasks of the OD consulting cycle; and an introduction to knowledge and skills for effective coaching of individuals and teams. Usually offered every term. (3 credit hours)
Organization Analysis and Strategy (PUAD 675)
This course expands knowledge of administrative fundamentals, executive roles, and the centrality of strategy in OD and change. Using simulations, lectures, fieldwork, guest speakers, strategic analysis and cases, the course focuses on using OD techniques in strategy development and implementation to move a system toward its desired future. Usually offered every term. (3 credit hours)
Global Diversity and Cultural Capacity (PUAD-645)
This course takes a scholar-practitioner approach to diversity and systematic cross-cultural dynamics. Through lectures, research, assessments, experiences, teamwork, and field activities, the course supports students learning how/why differences mater, and building cultural capacity to become effective global organization development (OD) scholar-practitioners. The course starts with a pre-residency module in Washington, DC after which students travel to an international host site. Together PUAD-645 and PUAD-647 form the MSOD International Residency. (3 credit hours)
International Organization Development Consultation (PUAD-647)
Using a scholar-practitioner approach, in this course student teams complete compressed organization development (OD) cycle projects with overseas organizations. Under faculty supervision, this residential course abroad develops students' cultural capacity and global consultation skills through providing professional quality consultation services to clients. Together PUAD-645 and PUAD-647 form the MSOD International Residency. (3 credit hours)
Implementing System Change (PUAD 644)
This course immerses students in models and methods of full-scale OD interventions, emphasizing design, management, and assessment of transformative change. Students participate in dialogues with executives and OD change professionals, live cases, and fieldwork with transformative system change. Usually offered every semester. (3 credit hours)
Practicum in Organization Development & Change (PUAD 674)
This course is a field-based organization development and change project developed and implemented by each student, supervised by a practicum adviser. Students focus on framing a client engagement and front-end consultation skills; progress review and planning for project completion and development of the practicum report; and presentation of results. May be taken pass/fail only. (3 credit hours)