Alumni
Greetings from Rob Johnson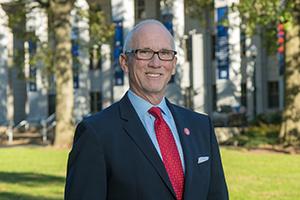 Hello, alumni family! I am excited to share with you that we have officially welcomed more than 2,500 new AU alumni to our ranks. The Class of 2019 is full of impressive fellow Eagles who will no doubt go on to mark the world as incredible changemakers. 
One example is the 2019 President's Award winner, Annelise Straw. Of course, we have countless new alumni worthy of recognition. Meet some of them among other recent student award winners and those who shared their backstories and hopes for the future. There are many inspiring stories, and I hope you'll take the time to enjoy them.
This issue of Alumni Update includes many more stories, including news of Professor Kendi winning a prestigious Guggenheim Award and details about regional communities and how one of our newest alumni networks, the Asian and Pacific Islander Alumni Network, is celebrating its heritage. You'll also find more information about our exclusive online networking platform, AlumniFire. 
Finally, I encourage you all to consider AU events as you make your summer plans. We always welcome your involvement in planning and attending events. Learn more about how to connect with AU alumni in your area at american.edu/alumni/engage/community.
Once an Eagle, 
 
Rob Johnson, SPA/BA '81