Alumni
Greetings from Rob Johnson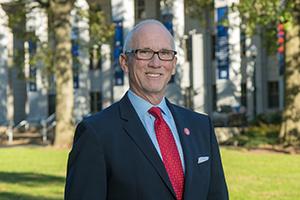 Hello, Eagles. There's a lot of great news to share with you this month. First, it's time for March Madness! If you haven't heard, the AU women's basketball team faced off against Bucknell this past weekend in the Patriot League Championship. While they may not have been able to bounce back from an early deficit to claim the win, they fought hard and played an incredible game. Their journey isn't over yet though. They'll be headed to the Women's National Invitation Tournament (WNIT). I hope you'll join me in cheering them on as they continue on their post season play! 
In the spirit of Women's History Month, we have loads of exciting news about women making history at AU and inspiring stories about AU alumnae. Plus, the Women's Network hosted a very successful "Alumni in the KNOW: Women in Leadership" event earlier this month, and by all accounts, it was wildly successful with lots of connections among alumni, faculty, staff and students.
 
A HUGE THANK YOU to everyone who generously gave to AU during this year's Founders Day Challenge. A total of 1,182 Eagles gave nearly $310,000 in just 36 hours. Because more than 1,000 gifts were made on Founders Day, we secured a $50,000 gift from alum Alan Fleischman and Dafna Tapiero Fleischmann – thank you to Alan and Dafna and all our challenge donors!  Our own Vice President of Development and Alumni Relations, Courtney Surls, matched gifts from faculty and staff with a $25,000 gift of her own! Plus, of course, my own School of Public Affairs met a challenge from Dean Vicky Wilkins, who gave $5,000 to the newly established financial aid fund for SPA students who find themselves in unexpected troubling financial situations. A lot of good came from our collective efforts during the Founders Day Challenge this year, and I want to thank all of our alums, faculty, staff, and students who were a part of it. Your contributions really do make a difference in the lives of our students. (And, by the way, if you didn't have a chance to join in, it's never too late. The online giving form is always open and your support is greatly appreciated.)
 
In other exciting news, I hope you've seen that SPA continues to achieve well-deserved recognition as one of the country's top public affairs institutions. It climbed four spots to an overall ranking of No. 14 in U.S. News & World Report's 2020 Public Affairs Graduate Schools Rankings. SPA's specialty rankings also improved across the board, increasing in three areas and receiving recognition for the first time in four others. Great things are happening at AU and it's gratifying to see our alma mater being recognized.
 
Finally, with spring just around the corner, it's time to think about recognizing alumni Eagles during All-American Weekend. The tradition of our annual awards celebration dates back to 1948. Nominations for the 2019 awards will be accepted until April 15, but it's never too early to nominate a deserving alumna or alumnus who has made an impact. We look forward to hearing about the great alumni you know.
 
I hope that you are enjoying some nice weather wherever you are. Please continue to be in touch and visit campus as you are able.
 
Go Eagles!
Best wishes,
Rob Johnson, SPA/BA '81