Alumni
Greetings from Rob Johnson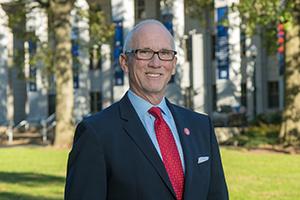 Happy New Year, fellow alumni! I'm excited to serve as your alumni association President, and I look forward to meeting and interacting with you. I've been involved with the AU Alumni Board for several years, and I am honored to lead this group for the next two.
 
These are exciting times for our university.  During my time on the Alumni Board, I have witnessed great strides at AU. I truly believe that this institution is on a path to unprecedented success.  Our over 130,000 proud alumni around the world play a big role in AU's success, and I'm excited to work with you to help American University achieve its potential.  Stay tuned for future messages on ways each of us can help our institution and future generations of Eagles realize their full potential. Each of us can help!
 
Change is inevitable, and the new year also means change on the American University Alumni Board. Next month, we will formally thank our outgoing members for their service to the university community. Sara Nieves-Grafals, CAS/BS '75, CAS/MA '79, CAS/PhD '80; Rachel Weiner Cohen, SPA/BA '04, WCL/JD '08; Kerry-Ann Hamilton, SIS/MA '05; and Christopher Quintyne, SPA/BA '07,  have served their alma mater incredible energy, integrity,  and devotion. We appreciate their time and energy and look forward to their continued involvement at AU!
 
We'll also welcome our newest Alumni Board members: Elliot Bell-Krasner, SPA/MPP '12; Melanie Brown, CAS/BA '02; Peter Brusoe, SPA/PhD '12; Nakeesha Ceran, SPA/BA '10, SPA/MA '12; Derrick Hensley, Kogod/MS '13; and John Nadolenco, WCL/JD '95. They participated in a competitive application process and now have a unique opportunity to give back to the university.
 
I'm pleased to announce that joining me on the Executive Committee this year are Jonathan Mathis, Kogod/BSBA '04, Vice President of Operations; Kristen Eastlick, CAS/BA '95, SPA/MA '96, Vice President of External Relations; and Amy Lampert, SOC/BA '94, who returns in her role as Secretary. I'm grateful to work so closely with this team of dedicated of alumni volunteers.
 
Finally, I offer, on behalf of myself, the Board, and the entire Alumni Association, a heartfelt and sincere thanks to our outgoing President, Joe Vidulich, SPA/BA '08. Joe has given incredible amounts of his time and energy to AU over the years and he will continue to do so in his role as immediate past president of the Alumni Board. Joe has represented us all well, and I look forward to continuing our work together. Joe, you epitomize what it means to be a dedicated alum, and we are all very grateful for your dedication and leadership.
 
Please join us in supporting AU!  There are many ways to help AU and our students, and each of you can make a difference. Visit american.edu/alumni/volunteer to learn how.

Thank you!  Once an Eagle, Always an Eagle!
Best wishes,
Rob Johnson, SPA/BA '81