There are many ways to connect with AU research! Learn about externally sponsored awards from government agencies and foundations received by faculty to conduct impactful research. Listen to podcasts such as SIS Big World that shines a spotlight on complex ideas and issues that matter and Lobes & Robes that makes neuroscience for everyone. Follow us on Twitter for research highlights and upcoming events.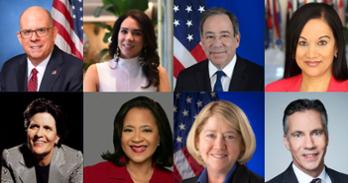 2024 AU Sine Institute of Policy & Politics Fellows and Distinguished Lecturers Soar From the Halls of Government to the Frontiers of Space
Videos in this playlist
To play a specific video, use the playlist icon in the player or view each video on YouTube.