Alumni Relations
4400 Massachusetts Avenue NW
Washington
,
DC
20016
United States
Since the 1970s, the Alumni Audit program has been furthering American University's commitment to "the development of thoughtful, responsible human beings in the context of a challenging yet supportive academic community (American University's Mission)" by providing alumni of the university with the opportunity to continue their education on-campus.
The Alumni Audit program allows AU alumni to audit one course per semester for the nominal fee of $150 (plus course fees if applicable). This fee supports the Alumni Association Scholarship by contributing $125 of your $150 registration fee to the scholarship's endowment.
Please contact us with any questions at alumniaudit@american.edu or 202-885-5960. 
The application for Spring 2019 audit will open on December 3, 2018.
By following a few simple steps, we can help you enroll in a course that interests you. Please carefully read through all information for participation in the program.
Please check the registrar's schedule of classes.
THE FOLLOWING ARE NOT ELIGIBLE FOR AUDIT:
Institutes, seminars, workshops or independent studies
Courses that require a special tuition rate or are taught at other institutions through the consortium
Other courses as determined by each academic school
PLEASE NOTE: 
Some courses may require departmental or professor approval or additional fees in order to enroll. 
All online and/or hybrid courses require professor or departmental approval.
AUDITING GUIDELINES BY SCHOOL:
Please review the Auditing Guidelines By School for a list of ineligible/eligible courses by school and to find out if the course you are interested in requires departmental approval.
Obtaining departmental/instructor approval: You must reach out directly to the department or instructor to obtain written approval for your admittance in the course. A simple email correspondence between you and the listed professor will suffice. You may locate contact information via the online directory. Approvals must be forwarded to alumniaudit@american.edu and received before your registration can be processed with the registrar. 
If you have any questions, please contact us at alumniaudit@american.edu or 202-885-5960.
The application for Spring 2019 audit will open on December 3, 2018.
The $150 audit fee is paid immediately when you apply online and an email confirmation of payment will be sent to your email address. The confirmation of payment email only confirms your payment and course information. It is not a confirmation of enrollment in a course.
By completing this registration form, you agree that you will comply with all AU policies and procedures, including but not limited to AU's Code of Conduct. A copy of AU's policies is available at http://www.american.edu/policies/.
Once your form is received, the Alumni Relations office will ensure that you have graduated from the university, are in good financial standing, and that your preferred course is open. If all those conditions are met, a request will be sent to the Office of the Registrar to enroll you in the course.
Note: Actual course enrollment begins on the first day of the classes for each semester and continues through the first two weeks of classes and only for courses which have not reached their enrollment limits. Students have first priority in filling all classes. Alumni are given any open spots left in a course.
CRITERIA
American University ("AU") is pleased to make classroom instruction available on a space available basis to holders of AU degrees who are in good standing with the university as well as community members age 60 and over who live in the 20016, 20015, 20008, or 20007 zip codes. An applicant must also demonstrate adherence to high standards of personal conduct and good citizenship which contribute to the overall well-being of the AU community.
Alumni may audit ONE course each fall, spring, and summer session for the nominal fee of $150 (plus course fees if applicable).
The Alumni Audit Program supports the Alumni Association Scholarship by donating $125 of your $150 registration fee to the scholarship's endowment. The scholarship is awarded every other year. For more information about the Alumni Association Scholarship, please contact us at 202-885-5960.
No credit is given for courses taken through this program, and courses will not appear on transcripts. Alumni who wish to receive credit for courses must register as non-degree seeking students and pay tuition at the prevailing rates.
ENROLLMENT
While we hope to confirm all registrations as quickly as possible, please note that official enrollment begins on the first day of class for the new semester and can take up to three business days following the end of the add/drop period to verify all registrations. You are not confirmed for your course until you receive a confirmation email. Please work with your professor during this time to stay up to date with any course assignments. We appreciate your patience.
Please note that we are only able to enroll alumni audit participants into courses with open spots. If a course is listed as "waitlist" or "closed", please contact alumniaudit@american.edu.
ACADEMIC RESOURCES
Once you have received your confirmation email, you will be able to sign in to "Blackboard" to fully experience life as a student. If your class requires access to any particular software programs, please contact the OIT Help Desk at helpdesk@american.edu.
REFUNDS
Auditors may receive a 100% refund up until close of business on the given registration deadline date for the semester.
Auditors are eligible to receive a 75% refund from the day after registration closes until close of business on the given course drop deadline date for the semester.
Note: If you decide to drop a class, you must notify both the professor and Office of Alumni Relations (alumniaudit@american.edu) in order to receive a refund. No refunds will be offered after the course drop deadline for the semester.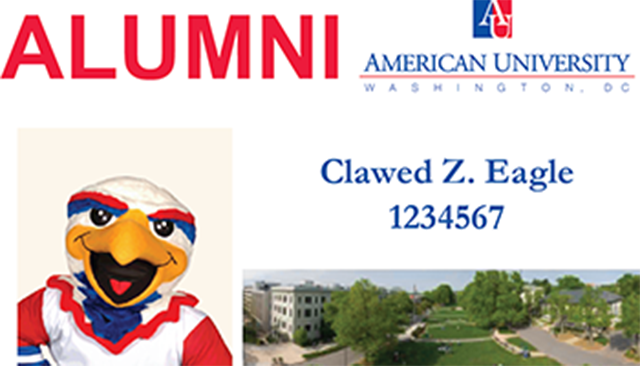 Receive Campus Store discounts and lifetime borrowing privileges at Bender Library with your AU One Card.