Greetings from Joe Vidulich, SPA/BA '08 President of the Alumni Association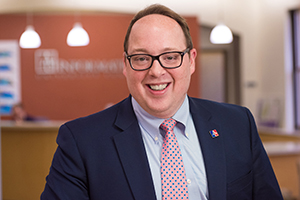 Fellow Eagles --
It's winter in Washington! The weather has shifted abruptly here in the last few weeks, and I know that means the holidays are on all of our minds. This season often presents itself as an opportunity to express gratitude and appreciation for the blessings we have received. Undoubtedly, American University has been a blessing in my life, giving me so much to be thankful for.
At AU, I received a world-class education from a faculty that was second-to-none. My classroom was Washington and the world. My professors were pillars of academia and skilled practitioners of their expertise. 
At AU, I had a number of once-in-a-lifetime experiences. I saw presidents and protests, actors and artists, and championships and celebrations.  I made memories that I will treasure forever.
And at AU, I met some of my closest friends, including my best friend. I learned the true value of an education isn't necessarily for personal enrichment but for the betterment of others. 
I am reminded that this institution, founded in 1893, has at its bedrock a mandate to serve. When American University opened its doors on May 27, 1914, President Woodrow Wilson addressed the campus and remarked, "in opening a university we wish to add one more means of emancipating the human mind from fear, misunderstanding, and darkness, and leading it into the light." That is what AU means to me and what I hope it means to all of you.
But to everything, there is a season, and now it is time for my tenure as your American University Alumni Association president to come to an end. You will be in the great hands of Rob Johnson, SPA/BA '81, as he takes the helm and leads you for the next two years. I want to thank all those AUAB members, volunteers, and fellow alumni who have propelled AU to new heights over the last few years. Your dedication is inspiring. And I would be remiss if I didn't thank the team at Development and Alumni Relations for showing me kindness and patience as we work to build a better AU for everyone.
See, I love American University not for some coincidental kinship to alma mater. Rather, I love what AU stands for and how it empowers the leaders, the doers, and the dreamers to be the light of inspiration and hope. Here, I found my voice, my courage, and my confidence. I know that AU has provided the same to all of you.
Have a wonderful holiday season, and remember, "once an Eagle, always an Eagle!"
With gratitude,
Joe Vidulich