Alumni
Raina Lenney Named Assistant VP of Alumni Relations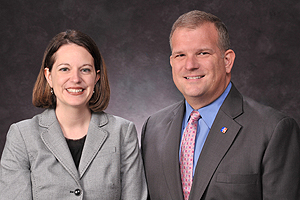 Raina S. Lenney has been named AU's first assistant vice president of Alumni Relations.
Lenney currently serves as senior director of Alumni Relations at George Washington University, where she manages all alumni programming. She has created, marketed, and led a wide range of programs including mentoring, alumni boards, young alumni, regional chapters, volunteers, and school-based programs—preparing her for the alumni relations role at American University.
"We are delighted to bring Raina on board to serve this most important community. The importance of alumni is underscored in the strategic plan, reflecting the deep commitment of President Neil Kerwin, an AU alumnus himself," says Thomas J. Minar, vice president of Development and Alumni Relations. "Alumni told us they wanted more from their alma mater, and we are investing in a senior-level professional to answer that call," adds Minar.
Lenney has served as a faculty member for the Council for Advancement and Support of Education (CASE) since 2007. She received her bachelor's degree in theatre from Florida State University and a master's from George Washington. Lenney's first day on campus will be October 22.
"It is an exciting time to join American University," says Lenney. "It's clear AU is extremely dedicated to enhancing its relationship with alumni, and I am thrilled by the possibilities. My main focus will be to enhance the lifelong relationships between alumni and their alma mater."
Lenney completes Vice President Minar's executive team, joining Assistant Vice Presidents of Development Abbey Silberman Fagin and Jane Chittick, and Director of Development for University-Wide Initiatives S. Lee Holsopple.