Alumni
Announcing AU's 2022 Alumni Award Winners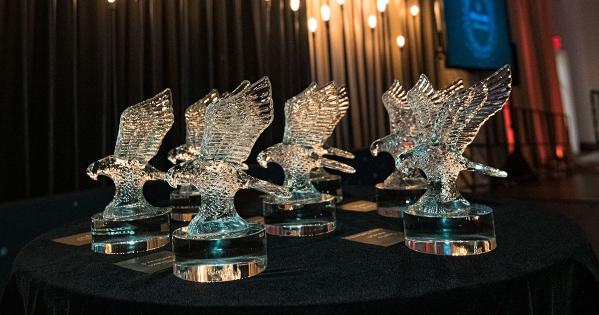 American University's alumni are changemakers in their communities and leaders in their fields. From public health to public service and journalism to activism, AU graduates are shaping the future for generations to come. This year, the university's Alumni Association celebrates five distinguished alumni for their outstanding achievements. 
"On the many impactful paths AU alumni take, they leave indelible marks on our world and live out the values of our university," said AU President Sylvia Burwell. "Our alumni awards are one of my favorite traditions. It is always a great privilege to gather with you, and I'm even more excited that, in 2022, we plan to be in person again to celebrate the achievements of beloved AU Eagles."
The American University Alumni Board and the Office of Alumni Relations will honor recipients of the 2022 Alumni Awards on Wednesday, May 11. These awards are the highest honors presented by the Alumni Association. Please join us as we celebrate these alumni. 
The 2022 Alumni Award Winners are:
Global Alumni Leader Award
This year, the Alumni Association establishes the Global Alumni Leader Award, which honors alumni whose substantial impacts on society exemplify AU's tradition of service and leadership in the context of a global community. 
Valerie Guarnieri, SIS/MA '96
Assistant Executive Director, United Nations World Food Program
Valerie Guarnieri has been Assistant Executive Director of the UN's World Food Program since 2018. In March of 2021, the WFP was named the 135th laureate of the Nobel Peace Prize. In her role, Valerie leads policy development towards ending hunger, expanding school meals, pushing WFP efforts to ensure protection and inclusion, empower women, build resilient food systems, and support social protection. She also works to reduce the impact of the pandemic and climate change on world hunger.
Neil Kerwin Alumni Achievement Award
Renamed in 2016 to commemorate the successes of AU's first alumni president, the Neil Kerwin Alumni Achievement Award recognizes alumni who have distinguished themselves through their professional accomplishments.
Alisyn Camerota, SOC/BA '88
Anchor, CNN
Alisyn Camerota is a journalist, author, and anchor of CNN Newsroom. Alisyn has been nominated for two Emmy awards for her work and received an Edward R. Murrow Award for her continuing coverage of Hurricane Maria in 2018. In 2017, Alisyn published her debut novel, Amanda Wakes Up, inspired by her own career. The novel was named one of the best books of 2017 by NPR and deemed a "must read" by Oprah Magazine. Alisyn also serves on the Dean's Council of the American University School of Communication.
Alumni Recognition Award
The Alumni Recognition Award recognizes alumni who inspire the world around them through service to the community or a philanthropic mission. 
Mark Bucher, SPA/BA '90
Co-Founder, Medium Rare Restaurants; Founder, We Care Inc./Feed the Fridge
Since the pandemic began, Mark Bucher has worked to slow food insecurity in DC and across the nation through a non-profit called Feed the Fridge, an initiative to combat hunger while helping restaurants stay in business. He has provided more than 100,000 free meals in DC during the pandemic. Mark is also co-owner of Medium Rare restaurants and an active member of the American University alumni community, serving as a member of the Kogod School of Business Advisory Council and the Entrepreneurship Advisory Council.
Alumni Eagle Award
The Alumni Eagle Award recognizes alumni who have rendered outstanding service to the university and/or the Alumni Association. 
Loren Danielson, Kogod/BSBA '80
Senior Vice President, RBC Wealth Management
Loren Danielson continues to support American University long after his graduation in 1980. He currently serves as the inaugural chair of the Eagles Leadership Council, the AU Athletics' alumni and friends' group that provides philanthropic and personal support to the department. Loren and his wife, Jamie Danielson, CAS/BA '81, are lifelong fans of AU athletics and have hosted events on behalf of AU Athletics. Loren is a financial advisor with more than 35 years of experience in the industry.
Rising Star Award
The Rising Star Award recognizes recent alumni (who received their degree within the last 10 years) who are already making significant contributions to greater society through professional or philanthropic work. 
Sam Cho, SIS/BA '13
Commissioner, Port of Seattle
Sam Cho is Commissioner of the Port of Seattle. Sam is the first Korean American Port Commissioner, the only minority, and was the youngest in the position's 108-year history when he was elected at age 29. In 2021, when President Biden announced the full withdrawal of United States military from Afghanistan, the ensuing refugee crisis prompted Sam to establish the first welcome center for refugees at the Seattle-Tacoma International Airport. Prior to running for office, Sam worked in the Obama administration.