Alumni
Call for 2022 Alumni Awards Nominations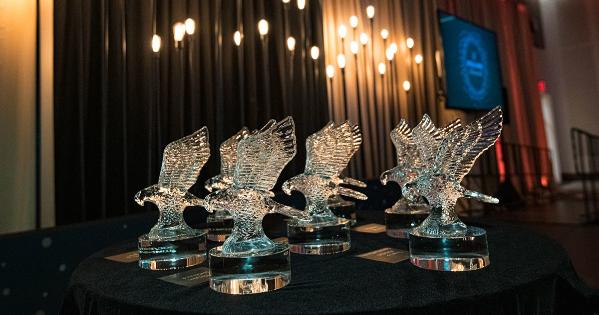 The American University Alumni Association has worked to engage alumni since its founding in 1927. For most of those 94 years, it has been governed by a dedicated board of alumni leaders. And since 1948, the alumni association has honored outstanding alumni with its annual alumni awards.
Alumni awards are the highest honors presented by the AU Alumni Association. Selected annually through a highly competitive process, each recipient has made a lasting impact on society and on AU through outstanding professional, philanthropic, or volunteer accomplishments.
"American University alumni make an impact every day through their work and their commitment to community," says President Sylvia Burwell. "Whether changing policies, leading businesses, or serving others, our 135,000 alumni exemplify AU's values and mission."
Nominations for the 2022 Alumni Awards are now open, and we need YOU to share stories of our incredible alumni. "The nominees and winners each year represent how our community accepts the challenge and pursues change that can't wait. I encourage you to join in celebrating some of the best and brightest AU changemakers," says President Burwell.
The deadline for nominations is January 21. And the university plans to return to an in-person celebration dinner for 2022. "Honoring these accomplishments and sharing impactful AU stories through our alumni awards program is a great privilege," says President Burwell. "I am pleased that we can plan to recognize them in person again in 2022."
Learn more and submit your nominations now.
Questions? Contact us at alumniawards@american.edu.