Alumni
Alumni Award Winners Celebrated in a "Night to Remember" at AU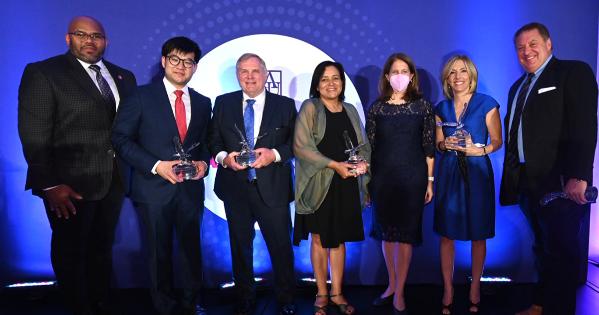 On Wednesday, May 11, nearly 200 members of the American University community came together to celebrate the Alumni Association's 2022 Alumni Award winners. Five stellar AU alumni were honored for achievements in activism, journalism, and service. 
In an event described by attendees as "a night to remember" and "perfectly executed," attendees enjoyed hearing how AU shaped the lives of honorees Valerie Guarnieri, SIS/MA '96, Alisyn Camerota, SOC/BA '88, Mark Bucher, SPA/BA '90, Loren Danielson, Kogod/BSBA '80, and Sam Cho, SIS/BA '13.
AU President Sylvia Burwell said that this year's award winners remind us that "our collective progress is composed of individual achievements, exceptional achievements, achievements that speak to our values, our shared AU spirit, and the high aspirations this community sets for itself." Those aspirations, she added, are often exceeded.
In accepting the Alumni Eagle Award, longtime AU supporter Loren Danielson remarked: "The best aspects of my life came about because of my four years as a student-athlete at American University." Danielson, a history-making wrestler when he was a student on campus, was honored for considerable time and generous philanthropic support given to ensure American student-athletes thrive in competition and beyond their sports. 
Cho, Rising Star Award recipient and Commissioner of the Port of Seattle, spoke of how AU shaped him as an undergraduate. "Humans are not born with values," he said. "They are taught. This institution shaped and melded my values, and for that, I am forever grateful."
Medium Rare co-owner and founder of Feed the Fridge Bucher spoke passionately of his quick reaction to the Covid-19 pandemic. Sharing a story of how he heard a news reporter early on advising anyone over 70 to stay in their homes, Bucher said he had to act. He recalled thinking how his own father would not have handled the situation well, saying he wanted to help ensure senior citizens were not without good meals while home alone. So, he said, "I put out a tweet. I didn't check with my business partners. I just did it." More than 300,000 meals later, he gives credit for the success of his campaign to his family and his colleagues, plus 140+ volunteer drivers who delivered meals on behalf of Medium Rare. 
Bucher later founded an organization, Feed the Fridge, that places refrigerators in places such as community centers. The organization buys meals from restaurants to fill them, and the meals are available free of charge to community members. "To effectuate change," he says, "you have to be willing to fight for those who can't fight…If faced with the decision to act or not act, always act…You can figure it out later."
CNN Anchor Alisyn Camerota recounted her early days on campus and said, "More than any other school I've seen, AU excels in preparing students to achieve their greatest ambitions…Experiential learning is the secret sauce of American University." She added that she's grateful to be able to help other students fulfill their dreams of becoming journalists through scholarships like the one she received.
"I see very clearly how desperately we need good, solid journalists for the future," Camerota said. "I'm very confident that, thanks to all of you, American University will continue to be both a beacon and bootcamp for kids who come to campus with a dream and determination for many, many years to come."
 
Notably, the AU Alumni Association awarded the first ever Global Alumni Leader Award to Valerie Guarnieri, Assistant Executive Director of the World Food Programme. Guarnieri remarked, "I am forever grateful for AU—not just for giving me a degree I needed to even be considered at the UN but also for the flexibility it offered that enabled me to attend and graduate from AU while simultaneously building the foundation for the career I have been so fortunate to have."
 
Guarnieri spoke of taking a semester off to work in Somalia in 1992 and how her real-world experiences inspired her education as well. "In my work, I am constantly inspired by the strength and resilience of populations who face and stare down recurring climate, conflict, and economic shocks. And I am reminded of the deep connections we all share," she said. "My thanks to AU for this honor, for helping prepare me and now the next generation of leaders to take on these and other global challenges with courage, compassion, and conviction in order to drive positive change. Change can't wait. Hunger can't wait. Peace can't wait."