Alumni
Alumni Award Winners Honored in "Magical" Celebration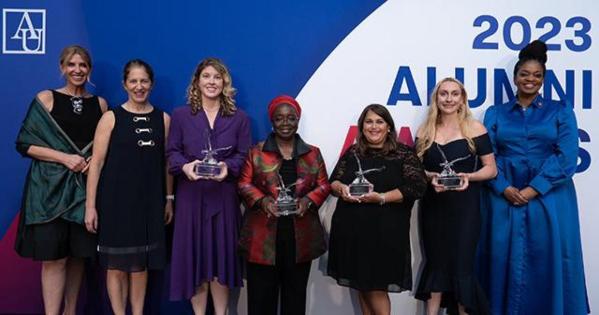 On Thursday, May 18, nearly 300 members of the American University community came together to celebrate the Alumni Association's 2023 Alumni Award winners in an event described by attendees as "beautiful," "magical," and "touching." Six stellar AU alumni were honored for achievements in government, healthcare, education, and service. 
A sold-out crowd enjoyed stories of how educational experiences on campus shaped the lives of honorees His Excellency Brigadier (Rtd.) Dr. Julius Maada Bio, SIS/BA '99, SIS/MIS '01; Baroness of Knightsbridge Dambisa Moyo, CAS/BS '91, Kogod/MBA '92, Hon. DHL '22; Fanta Aw, Kogod/BSBA '90, SPA/MA '94, CAS/PhD '11; Anne Caprara, SPA/BA '01; Katherine Grill, CAS/MA '16, CAS/PhD '17; and Amy Lampert, SOC/BA '94. 
 
Addressing a packed room in the Washington College of Law's Grossman Hall, AU President Sylvia Burwell told the honorees: "Your lives, your journeys, and your incredible impact as changemakers, tell the story of who we are and where we're going. Each one of you embodies the Eagle spirit – the impulse to do better and be better for the common good, to marshal our resources, our skills, and our passions in service to the world. It's who we are." 
 
His Excellency President Bio, of Sierra Leone, posited that his AU experience emphasized that "one is never too old or experienced to learn," adding that he wants to be known as a changemaker who makes communities "more inclusive, equal, and therefore better."
 
Baroness Moyo, who took her seat in Britain's House of Lords earlier this year, pointed out that "American University has always attracted some of the best and brightest students from around the world and put thousands of students like me on paths to impactful careers addressing the world's critical global issues."
 
In introducing Alumni Eagle Award recipient Amy Lampert, Jason Benkendorf remarked that, from their very first conversation, he was "blown away" by her commitment to AU and by how deeply she cares for students.  
 
Grill, the Rising Star Award recipient, and founder of renowned mental health app for adolescents, shared that AU was her first choice for graduate school. However, she added, "I was nervous that as a 20-year-old first-gen[eration] student, I wouldn't get in…I might not have believed in myself, but AU sure did." Not only was Grill accepted, but she received a full scholarship, which she called "lifechanging." 
Caprara, currently Illinois Governor JB Pritzker's chief of staff, captivated the audience with stories of her time at AU and ended by saying, "There was no better place for me than this place right here.  And I am so grateful to this university for giving me the path in life I feel very privileged to lead."
Finally, AU legend Fanta Aw was honored with the Neil Kerwin Alumni Achievement Award. Dr. Aw remarked that, as a former student of Dr. Kerwin's, the award felt like her AU life coming full circle. (She departed AU in March to lead NAFSA: Association of International Educators.) 
In recalling 30+ years as a student and administrator on campus, Dr. Aw said, "AU has given me so much. It is the place I found my passion, purpose, and voice." 
Six stellar AU alumni were honored for achievements in government, healthcare, education, and service.