Alumni
Alumni in the Know Features Congresswoman Loretta Sanchez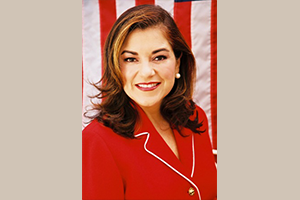 Although it's been a busy few weeks on Capitol Hill, alumna Loretta Sanchez, Kogod/MBA '84, took time out of her hectic schedule to speak to a group of alumni, faculty, staff, and students about how her education at American University led to her election as a congresswoman from California's 46th district in the House of Representatives. 
The Alumni in the Know event series gives the AU community opportunities to hear from distinguished alumni speakers who are currently using their AU education in various capacities around the world. In honor of Hispanic Heritage month, the AU community hosted Congresswoman Sanchez, a prominent Latina and women's voice in the largely male-dominated Congress. 
The Congresswoman spoke of her family, youth, and education, leaving the audience with a sense of inspiration and admiration. Ana Polanco, SPA/BA '98, chair of the Latino Alumni Alliance said, "She's a superstar, so complex … She is not only an elected leader of California, but she portrays all aspects of business, leadership, and politics. Loretta has her finger on the pulse of women in leadership."

Congresswoman Sanchez is originally from Anaheim, Calif., and her background includes an undergraduate degree from Chapman University. Her MBA from AU resulted in a career working in the financial market at the reputable firms of Booz Allen Hamilton and Fieldman Rolapp.

Explaining that she is a product of the Head Start program and California public schools, the congresswoman said she originally ran for Congress in order to effect change in the public school system of her hometown. In fact, her own mother, a public school teacher, urged her to go back to the schools and make sure kids have the same skill set she did. 
As a prominent Latina woman, Congresswoman Sanchez certainly makes her voice heard among many issues as she sits on several House committees, including Armed Services and Homeland Security. She is also a member of the Congressional Hispanic Caucus, the Blue Dog Coalition, Congressional Human Rights Caucus, and is founder and co-chair of the Women in Military Caucus.

Congresswoman Sanchez, who has been a leader on issues pertaining to violence against women in the military and border security concluded the Alumni in the Know event with a piece of advice for all current students at AU, telling them, "Do not underestimate what you are learning here. It goes a long way."