Alumni
Announcing the 2018 AU Alumni Award Winners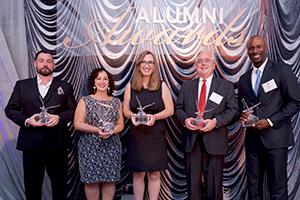 American University is known for its accomplished alumni. AU graduates are changemakers in their communities and leaders in every industry. This year, the university's Alumni Association celebrates five alumni for their outstanding achievements. 
The American University Alumni Board and the Office of Alumni Relations honored recipients of the 2018 Alumni Awards on Saturday, October 20. Selected annually from nominations submitted by faculty, staff, and alumni, these awards are the highest honors presented by the Alumni Association.
The 2018 Alumni Award winners are:
Neil Kerwin Alumni Achievement Award
The Alumni Achievement Award recognizes alumni who have distinguished themselves through their professional accomplishments. 
Andre Ingram, CAS/BS '07, graduated from American University with a degree in physics. For the next decade, Ingram stopped at nothing to achieve his dreams of becoming a professional basketball player. Using his extensive knowledge in mathematics to make ends meet as a tutor, Ingram was able to dedicate himself to the NBA Development League. His skill was matched only by his drive to better his game.
After more than 350 games in the G-League, Ingram got the opportunity of a lifetime in April, when Magic Johnson told him the Los Angeles Lakers would call him up to play in their final two games of the season.
Knowing the potential to start his professional career was riding on those two games, Ingram stepped on to the court and immediately showed he was there to stay. Scoring 19 points, Ingram's NBA debut was the fourth-highest scoring for any Laker in history. As he continued to thrive throughout the game, it became clear that the crowd was in his corner. Between chants of "MVP!" and excited roars every time he got the ball, the stands, and homes across America, were filled with people not only applauding his success but taking pride in his diligence to achieve it.
Following his wildly successful NBA debut, Ingram signed with the Lakers at the age of 32, nearly a decade older than the average rookie. News of Andre Ingram's long, inspirational journey to the NBA made headlines around the world.
Jack Rasmussen, CAS/MFA '75, CAS/MA '83, CAS/PhD '94, a native of Seattle, earned his BA in art from Whitman College in Walla Walla, Washington State. He then moved to Washington, DC, where he completed an MFA in painting, an MA in arts management, and an MA in anthropology, and a PhD in anthropological linguistics—all at American University. He worked in the Education Department of the National Gallery of Art before becoming the assistant director of the Washington Project for the Arts when it opened in 1975. He left this position to open the Jack Rasmussen Gallery, one of the first commercial galleries to move to downtown Washington.
Rasmussen served as AU's first associate director of development for planned giving from 1978 to 1983, before leaving to launch Rockville Arts Place (VisArts). He then served as executive director of Maryland Art Place and executive director of the di Rosa in Napa, California. Rasmussen has been director and curator of the American University Museum at the Katzen Arts Center Washington, DC,  since it opened in 2005. He also currently serves as chairman of the Maryland State Arts Council. 
Alumni Recognition Award
The Alumni Recognition Award honors alumni who inspire the world around them through service to a philanthropic mission or the AU community.
Rebecca Geller, SPA/BA '02, WCL/JD '07, is owner and CEO of the Geller Law Group, a firm she founded in 2011 with the goal of providing high-quality legal services while emphasizing a healthy work-life balance for the firm's staff. Rebecca stands out as a leader in the legal industry, revolutionizing the law firm model to become a place where employees can successfully balance legal careers and the rest of their lives.
The Geller Law Group was profiled by the New York Times in 2015 for its innovative approach to maintaining work-life balance. Among its many awards, the Washington Business Journal selected the Geller Law Group as one of the Top 100 Best Companies to Work in 2018. Forbes Magazine recognized the Geller Law Group in 2016 as one of the top companies in the U.S. for teleworking and flexible work/life schedules.
The Geller Law Group focuses its practice on small businesses and trademark, wills and trusts, and family law/litigation. Now with 13 lawyers on the team (five of whom are AU WCL alumni!), the Geller Law Group has grown to 3,000+ clients. The firm is committed to volunteering in the community. Among other things, it organizes an annual food drive for a local pantry collecting 2,000+ pounds of donations.  
Alumni Eagle Award
The Alumni Eagle Award recognizes alumni who have rendered outstanding service to the university and/or the Alumni Association.
Brandon Krapf, SIS/BA '14, is a decorated US Army combat veteran with over 18 years in the international affairs field, where he focuses on security and strategic communication. Brandon holds a BA in international studies from American University, where he was a president of the Delta Chi Fraternity, brother of Delta Phi Epsilon Professional Foreign Service Fraternity, and founder of AU Veterans. He currently volunteers as president of the Delta Phi Epsilon Foreign Affairs Council.
In 2013, Brandon was listed on the "Top 99 Under 33 in Foreign Policy," as ranked by Young Professionals in Foreign Policy and the Diplomatic Courier. His writings and interviews have been featured by NPR, NBC, USA Today, Fair Observer, and Small Wars Journal as well as a dozen or so other outlets, including the online press in Africa. Brandon hopes to return to the US in the near future to focus on writing, including a book titled The Warrior Class: Confessions of a Student Veteran, about his time at AU.
Brandon has traveled, lived, or worked in more than 60 countries and is writing a book about his time studying Arabic in Yemen in 2013. Brandon currently resides at the US Embassy in Baghdad, Iraq.
Rising Star Award
This award recognizes recent American University alumni (received their undergraduate degree within the last 10 years) who are making significant contributions to society through their professional or philanthropic work.
Sarah McBride, SPA/BA '13, is national press secretary for the Human Rights Campaign and author of Tomorrow Will Be Different: Love, Loss, and the Fight for Trans Equality. In 2012, Sarah made national headlines when she came out as transgender while serving as student body president at American University. A native of Wilmington, Delaware, Sarah serves on the Board of Directors of Equality Delaware, the state's primary LGBTQ-advocacy organization. In that capacity, Sarah helped lead the successful effort to add gender identity and expression to her state's nondiscrimination and hate-crimes laws.
In 2008, Sarah worked for Governor Jack Markell (D-DE) and, in 2010, for former Attorney General Beau Biden (D-DE). Prior to joining HRC, Sarah worked on LGBTQ equality at the Center for American Progress and interned at the White House, the first out trans woman to do so. Sarah became the first openly transgender person to address a major-party political convention when she spoke at the 2016 Democratic National Convention in Philadelphia.