Alumni
Love is in the Air: AU Sweethearts Share Their Stories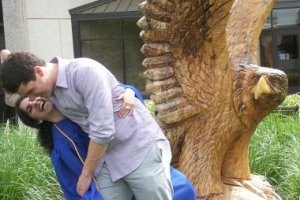 "We believe we were meant to go to AU in order to meet. AU gave us so many beautiful memories that we look back on fondly," says Ezree Mualem, CAS/BA '09, about meeting her future husband, Tyler Budde, CAS/BA '10, while they were both students at American University.
This year, we asked AU couples to submit their stories as part of our AU Sweethearts Social Media Project. Through Facebook comments, tweets, and submissions to our website, we collected many wonderful stories. A few highlights are below, and the rest of the stories can be found on the AU Sweethearts Social Media Project website.
Thank you to everyone who contributed! We'll be adding to our collection throughout the month of February, and we hope more of you will share your stories with us. You can fill out this form, tell your story (include a photo!) on our Facebook wall, or share stories and photos on Twitter and Instagram using #AUSweethearts.


IRENE (DEZENDORF) BILBROUGH, CAS/BA '29, AND SAMUEL BILBROUGH, CAS/BA '29
(submitted by their daughter, Lois Bilbrough)
Lois: "My parents had the good fortune to attend their 50th American University reunion together. My dad once said he became interested in Renee (as everyone called her) when she offered to teach him to dance. There were less than 50 people in their class, so they all knew each other."


TYLER BUDDE, CAS/BA '10, AND EZREE MUALEM, CAS/BA '09
Tyler: "Everyone says that college is the best four years of your life. AU gave me so much that will stay with me forever – a love for Subway, the belief that I can make it in the arts, and (most of all) a partner for life."
Ezree: "[Our first date was the] Founder's Day Ball. We had a blast and it was the moment where our friendship turned into so much more. Who knew we would be practicing for our first dance [at our wedding]?"


KATIE CLISTER, SPA/BA '04, AND RUSSELL CONFROY, SOC/BA '06
Katie: "We met at the AU vs. Georgetown basketball game in 2007 with a bunch of fellow alums. I turned to a girlfriend and said, 'Hey, who's that weirdo with the long hair?' I was interested. I was also impressed he knew the fight song."
Russell: "Katie and I got married in June 2012. One of my favorite moments from the wedding was when we got the DJ to play the AU fight song. We all joined in and gave a yell for AU and victory (or, in this case, marriage)."


STEPHANIE (WIECH) SALMON, SIS/BA '84, AND SCOTT SALMON, SIS/BA '84
Stephanie: "AU remains a very important part of our lives. We met there, it has informed our career choices, we live nearby, and we love what has been happening at the school over the years. Our best friends are all from AU and we've remained close to a couple of great professors. Our youngest son (a high school wrestler) has even discovered that AU has a very good wrestling team – he and Scott like to attend matches at Bender Arena."
Scott: "We both studied abroad during our junior year. … We managed to meet several times during the year in places like Paris, Reims, Berlin, Bruges, and Amsterdam. Those were great weekends!"