Alumni
Meet New Alumni Association President Joe Vidulich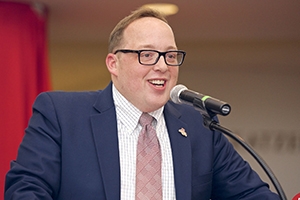 Joe Vidulich, SPA/BA '08, fell in love with AU from the moment he stepped on campus. "I knew it was a special place and that I would be honored to be a part of it," he says. Joe, who takes over as president of the American University Alumni Association this month, has been a significant "part of it" ever since. 
As a student, Joe founded the AU Blue Crew to encourage fellow students in supporting the university's athletics teams. "Supporting the men and women who wear the AU insignia on their chests was important to me," he says. The group Joe founded in 2006 is now the university's largest student group. 
Even then, Joe recalls the alumni board president, Brian Keane, SPA/BA '89, saying that your time at AU doesn't end when you graduate – and Joe's involvement certainly didn't stop when he crossed the stage in Bender Arena and received his diploma. "My priority is to be AU's biggest cheerleader," he says. (In fact, that's how he first met outgoing president Andrea Agathoklis Murino, SPA/BA '98. Both are season ticket holders for the men's basketball team, and they struck up a friendship courtside.)
Joe, now in his sixth year as a member of the Alumni Board, believes AU is at a crossroads. "It's a better institution, a stronger institution than it was when I left it," he says. "I think that's in large part due to very active and engaged alumni. One has to look no further than the legacy of Dr. Kerwin as an example. I want more alumni to take an active stake in their university. Talk about AU, share our story, live our values so that American is better for the next students."
In his new role, Joe looks most forward to meeting and engaging alumni who have not yet reconnected to the university. "Whatever drew you to AU, there is a way to support that same vision today, tomorrow, and for years to come…Half the battle is showing up," he says. "Reminisce, contribute time, talent, and dollars. Help shape AU."