Alumni
Alumna and Sine Fellow Barbara Comstock Advances Women in Politics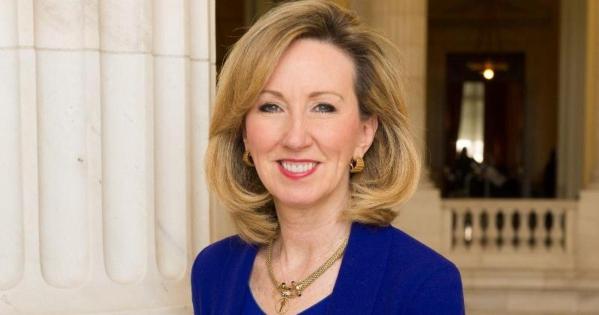 Barbara Comstock, WSP '79, credits her Washington Semester program experience at AU for her passion for politics. The internship program, in which she participated while a student at Middlebury College, showed her the world of Washington, from offices and agencies to think tanks across the political spectrum.
 
"By exposing me to a lot of different places and people and having those discussions and engaging on the issues of the day, I just knew that's what I was interested in doing as a career," Congresswoman Comstock said. "It was a great experience, and it set me on the path to come back to DC after I graduated."
 
That career has been defined by lawmaking and advocacy in the realm of women's rights. She served as a Republican Member of Congress representing Virginia's 10th Congressional district, a member of the Virginia General Assembly, in the Justice Department, and as a chief counsel and senior aide in Congress. 
Comstock also has worked on numerous campaigns and conventions in her lifetime of political involvement and now works for law firm Baker Donelson as a senior advisor while serving as a political commentator on CNN, PBS, and MSNBC. She says that some of her proudest career moments involved advocating for women in positions of leadership and pushing for congressional reforms combatting sexual harassment. 
 
"As a young person, I had friends who experienced sexual exploitation, assault, and discrimination on Capitol Hill," Congresswoman Comstock said. "And so later, when I was in Congress during the #MeToo movement, I was able to pass legislation to change how sexual discrimination plays a part…it was very personal to me."
 
Leading a bipartisan effort, Congresswoman Comstock pushed for antidiscrimination training in Congress and raised awareness of the issues women face in the workplace today. Women, as she noted, are more likely to leave fields like STEM, journalism, and politics if they face workplace harassment. This was the impetus for her INSPIRE Women Act, which encourages women and girls to study math and science from the earliest stages of their careers. 
"Oftentimes, women will wait to be asked to the prom," the Congresswoman said. "You don't need to. Volunteering, engaging in what you're passionate about, working with people of character and principle whose values you share—all of that combines and if there is a moment or opportunity where you think you want to go for it, you should."
 
It was with this in mind that Congresswoman Comstock started the Young Women's Leadership Program during her time in the General Assembly to aid middle and high school girls in leadership development. She said that she had never thought to run for office until male mentors helped pave her path. 
 
"I realized we need to have more women's voices telling women to go for it, to take the top jobs, and to prepare them for leadership roles so they see themselves as leaders early on," Congresswoman Comstock said. 
 
"Be fearless, and don't be intimidated," she added. "I volunteered for my local congressman in 1984, and then in 30 years, I was replacing him."
 
Now Congresswoman Comstock serves on corporate boards and committees—in part to promote efforts to see more gender diversity in Republican politics. While Democratic seats are split almost evenly between men and women, Republicans are "still a far cry," she said. 
"I like to encourage students to really keep their idealism because I think that's something I got from my Washington Semester that I hope I never lose," she said. "Our system of government really does tend to work, and it just takes a few good men and women of courage to make a majority at any given time. I hope I am just as idealistic as I was in the Washington Semester program."
Learn more about the Sine Institute and register to attend here.