Alumni
Charley Fogel, CAS/BA '13, Helps Fellow Alums Navigate Career Development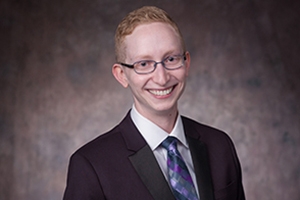 We sat down with Charley to discuss their* position as AU's Alumni Career Programs Coordinator. Check out the informative Q&A!

Can you tell us about your position as Alumni Career Programs Coordinator?
Essentially, I liaise between the Office of Development & Alumni Relations and the Career Center to connect AU alumni with career services. For example, some alumni want to post jobs if they're hiring or want to come to campus and recruit students. I help them navigate the process to hire AU students and alumni. Additionally, I point alumni who are seeking jobs in the right direction by telling them about the resources that are available to them.

Another component of my job involves planning events that will advance the careers of students and alumni. I organize networking receptions as well as panels on helpful topics like being LGBTQ+ in the workplace, women in leadership, and career planning and job searching from a multicultural perspective.

How can alumni stay in the loop and get involved with these events?
Definitely check out the Career Center's social media! We have a Facebook page (AUCareerCenter), Twitter account (@AUCareerCenter), and an Instagram account (@aucareercenter). There are also several useful groups on LinkedIn, such as the American University Alumni and American University International Alumni groups.  

What are some career programs about which alumni may not know?
Alumni are always welcome to come to any of the programming the Career Center does, including the Job and Internship Fair. All they need to do is register for the events on the Career Center's website.
Alumni can also meet with my colleague Anne Kirchgessner. She is the Alumni Career Advisor and schedules one-on-one appointments for alumni in person, by phone, or by Skype. If you're an alum within one year of graduation, you still have full access to your school-based career advisor too! You can call the Career Center front desk at (202)885-1804 or go to the visit the Career Center online to schedule an appointment.

What is it like to work at AU as an alum?
I love it because I loved my time as an AU student. The environment is just awesome. Additionally, it feels incredible to have a connection with all of the alumni here.

Can you give us some career advice?
Go see your career advisor! A one-to-one connection is the best career resource. When it comes to your meeting, be prepared, have a goal, and know what you want to get out of the session. If you're not ready to hear the advice, it won't be helpful.

What's your favorite networking tip?
Be strategic before you go to an event. It's not about how many business cards you can get; it's about making meaningful, strategic connections. And think about how you can help the person you're speaking to as well. They will be more interested in helping you if you are able to give something back.

Lastly, what is the best way to get in touch in with you?
Either by email (charleyf@american.edu) or through LinkedIn (/charleyfogel).

*Charley uses pronouns they/them/their.