Alumni
Alumnus Wins Big on Who Wants to be a Millionaire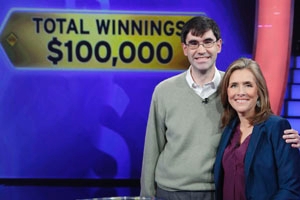 Chris Jacobs, SPA/BA '01, was on vacation in New York this past fall, when, on a whim, he attended tryouts and took the screening test for contestants on the popular daytime game show, Who Wants To Be A Millionaire. Not knowing whether he would pass the test or make it onto the show (which he did) Chris decided not to tell anyone what he'd done. In fact, he didn't tell anyone much of anything until just before the show aired on January 24.
It turns out Chris won $100,000 on the show and, when host Meredith Vieira asked him what he planned to do with the winnings, Chris said, "I think I want to spend some traveling and going out and exploring the world…Some of it I want to give back to my alma mater, American University." 
Chris, a political science and history major who won the 2009 Outstanding Honors Alumni Award, was an adjunct teaching a class on health policy at AU when all the back and forth of scheduling a game show unfolded. His taping had to be rescheduled a number of times, including once due to Hurricane Sandy. 
Chris says there were times when he begged the show's producers not to schedule his taping on Mondays or Tuesdays so that his teaching a Monday evening course wouldn't be affected. "At some point, you start to wonder, 'is this worth it?' For six weeks, my life was up in the air. I'm very lucky it worked out," he says. In the end, of course, it was worth it.
Chris didn't tell friends or family until what was going on until he found out when the show would air, only about a week before its broadcast. He quickly planned a watch party with friends and colleagues at his office on Capitol Hill, where he works as a policy analyst for the Joint Economic Committee. 
Now that the news is out, Chris is taking his time deciding where to travel. And, as for supporting AU, he says, "I had faculty members who went above and beyond for me…I've tried to do the same thing. It's why I'm teaching and why AU was on my list of priorities." 
See Chris win big on Who Wants To Be A Millionaire (mp4 download).