Alumni
Meet the 2017 Latino Alumni Alliance Book Award Winner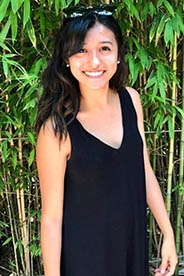 This summer, the AU Latino Alumni Alliance selected its 2017 AU LAA Book Award recipient. The first two LAA Book Award Winners, Melissa Ramos, SPA/BA '16 and Kenya Alvarado, SOC/BA & SIS/BA '16 had set the bar incredibly high, but we are sure that Conchita Garcia, SPA/BA '18, will continue this legacy!
We had a chance to catch up with Conchita to learn a little more about her!
AU: Congratulations! You've already proven yourself to be an exceptional young professional, but I'd like to know a bit more about the young woman who has made it to this point. Could you tell us a little about yourself?
I grew up in York, Pennsylvania and am the daughter of Mexican immigrants. I have three siblings (an older sister, older brother, and a younger brother with special needs). Also, as of three months ago, I am an aunt to a beautiful baby girl!
I grew up in York County's inner city and was fortunate to receive private education my whole life. I attribute everything that I am and that I do to my parents, who bent over backwards to make private education a possibility and that taught me the importance of critical thinking and independence. I have also been incredibly fortunate to have dedicated teachers that believed in me and inspired me endlessly (and continue to do so).
I am a first-generation college student and take that very seriously. I feel, and have always felt, that I owe it to my parents, former teachers, and mentors (who have been my biggest cheerleaders) to do something meaningful with my life.
AU: How did you choose American University?
Navigating the college application process was interesting because I was very much on my own when it came down to making decisions, but had tremendous support and guidance from my college counselor, teachers, and my parents. My sister is also first generation and, I'll admit, had it far more difficult than I did. When it came time for me to figure out my next steps, she gave me a list of potential schools and said, "Here you go, figure it out." At the top of the list was "American University," because it started with the letter "A." It was the first school I researched, the first school I toured, and I was in love with what the campus had to offer. I wanted to be in DC, but also enjoyed the American University campus feel. I loved the CLEG major because it has encompassed all of my interests, and was excited to be politically active. What better place to show your interest in policy than AU?
While finances were a concern, I was fortunate to received several small scholarships, a generous offer from AU, and again, have parents that have sacrificed their lives to make my dreams a reality. I was worried about affording the school, but was constantly reminded that it didn't hurt to try.
Choosing to attend AU was easy, but I'd be lying if I said that I never considered leaving. Thankfully, I made incredible friends that made Anderson Hall feel like home, and Latinx students that brought back the sounds and language of my home to my life. I owe my staying at AU to them and their endless support.
AU: In what organizations are you involved on and off campus, and what positions do you hold?
Currently, I am a Student Co-Director of the SPA Leadership Program and prior to holding this position, I served as a Teaching Assistant for the program. I truly believe that in the SPA Leadership Program, you get out what you put in. I have a deep admiration for the program, but more importantly for the students in it. I am humbled by the opportunity to serve as a Student Director for such a passionate program and to give back to a community that have given and taught me so much.
As a senior, the SPA Leadership Program is my only extracurricular. Previously, I was the Vice President of the Latino and American Student Organization, and was a photographer for the AU Photo Collective.
AU: Do let us know about your internship, it sounds really interesting?
Currently, I am a Pathways intern at the Department of Homeland Security. I am very interested in the intersection of immigration policy and national security. I have learned so much and have a very deep admiration for the federal employees who work behind the scenes. I have met incredible people that have served under several administrations and that have lived the effects of new administrations and change. I am thankful for the opportunity to be a very small fraction of a community that has a deep commitment to public service and that works to keep our country safe.
Despite ongoing debate, specifically around immigration issues, I felt compelled to serve in the Department. I remember attending the Annual Latino Alumni Alliance Brunch last semester and there was a WCL professor speaking on the panel. In her advice to students and alumni, she said, "your mere presence is radical - you presence is political." That stuck with me. Despite my disagreements with a lot of current policy, I believe that by being in the Department and serving in this capacity, I am making a statement. I am evidence that, a female student of color, the daughter of working class immigrants with a deep connection to the special needs community, can be just as American, just as patriotic, and just as committed to the future of this country, as everybody else.
AU: What is your endgame plan? Where would you eventually like to end up, personally or professionally?
That is a loaded question that I do not have clear answer to. I am passionate and interested in a lot, but am unsure of where I will be six years, or six months, for that matter. With that being said, I know that in the long run, I want to have a career in public service and give back to our country.
I know it sounds cliché, and perhaps to some, a bit too patriotic, but I owe a lot to this country. I am endlessly thankful for the tremendous opportunities it has provided my family and myself. I recognize that there's a lot of work to be done in making our country safer and more inclusive, but unfortunately, I think that there's a false assumption that the two cannot go hand in hand. I think there's tremendous value in engaging now, more than ever, in service to our country, however you may interpret that. Where I'll be in the long run is something that I'm still figuring out. All I do know that I want to serve my country in a productive and meaningful way - in a way that promotes change and security for the better.
AU: Is there anyone whom you would like to thank for helping you get to where you are today?
There are so many faces and names that come to mind when asked this question.
I'm thankful to my family. Mom, for teaching me so much about self-care and putting myself first. Dad for pushing me and passing on the "never stop, always have goals" genes. Yatzi, for inspiring me with every text, Greg for bringing a beautiful baby girl and hope when I needed it most, and Joey for never failing to make me smile with texts and longwinded stories.
I'm thankful to the SPA Leadership community, Dr. Manuel, and Professor Griggs for providing me a space to express myself and develop as a leader, and to the Latino and American Student Organization for making AU feel like my home. I'm thankful to Anderson 4 North for bringing such incredible friends into my life.
I'm thankful for my high school teachers and faculty that keep in touch and that often inflate my ego more than they probably should! I remember the first time I ever thought I could maybe go somewhere beyond York was when my high school history teacher, Mr. Gyenes, told me to apply to a pre-law summer program at UPenn. The mere fact that he believed in me, a thirteen year old unsure of what law school even was, meant the world to me.
I'm thankful for AU professors that do the impossible to keep students engaged and hopeful. I owe it to Dr. Lasley for being one of the most rigorous and dedicated professors I've ever had. The loads of reading and vigorous writing assignments are worth every tuition dollar.
I am certain I've missed important people (former internship supervisors and the roommates that have put up with me) and I could go on and on, as you can probably tell, but those are just a few that stick.