Alumni
Meet Alumnus CEO and Founder of Jumptuit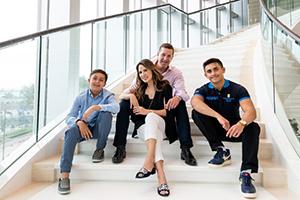 Bridging a Global Perspective
For technology to be widely applied, it must first widely appeal. Alumnus Donald "Don" Leka, SIS/BA '86, Kogod/MBA '97, is putting data to work and thinking of everyone in the process. 
With both parents from Eastern Europe, it was around the family dinner table where Don's view of the world and concern for others grew. Don knew that American University would be a natural extension of those conversations at home. Reflecting on his experience, Don says "the interaction with students from all over the world and AU's tradition of student activism really became central to my time there." 
From organizing international protests and providing humanitarian assistance to traveling and meeting with heads of state, Don's engagement with the university and real-world experience gave him the confidence to bridge his global experience with business and technology.  
Technology for the Future
"I've always been interested in technology and music," Don says. He began working on multiple technology initiatives upon graduating from Kogod with an MBA. His inspiration? Steve Jobs' return to Apple in 1997. 
In 2013, Don founded Jumptuit to address the need to access accurate data quickly and make informed decisions. A platform that uses Artificial Intelligence (AI), Natural Language Processing (NLP), and Blockchain to find data files, Don says "these technologies are more powerful together than on their own."
Today, Jumptuit employs a hands-free voice command user experience to allow data sharing across various sectors from  the economy and government toenergy and education. The applications for Jumptuit are scalable from individual to corporation on a global perspective. "Jumptuit has the goal of empowering people to go out there and accomplish their goals."
Advice from Don
"Let go of these constructs that we grow up with and follow natural inclinations. Doors will open up to you. At certain points, it will get easy, but challenges keep you motivated. Believe in your degree, believe in your school, and believe in yourself." 
Don Leka lives in New York City with his wife, Claire Leka, SOC/BA '91, SOC/MA '94, and their two sons. Claire and Don met at an AU Alumni Association event and have been together ever since!