Alumni
Triple Alumna Honored for Outstanding Service at SIS Award Ceremony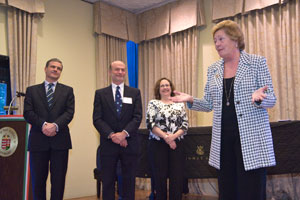 The School of International Service honored Fruzsina Harsanyi, SIS/BA '64, SIS/MA'67, SPA/PhD '72, as SIS Alumna of the Year on April 29, 2010 at its 52nd Anniversary celebration hosted by the Hungarian Embassy in Washington, D.C.
"Thank you for letting me flaunt my Hungarian heritage," Harsanyi told the crowd at the embassy. She made good on her promise to cite her roots after the former Hungarian Ambassador chided her for never mentioning her background at previous speaking engagements.  
"Paprika courses through my veins," she said, echoing a line she heard recently from a fellow Hungarian, former N.Y. Governor George Pataki. 
Harsanyi said she was quite surprised when SIS Dean Lou Goodman told her she had been selected for the award, but also very excited. "I didn't think that I had done anything so remarkable… other than what I was trained for and what was expected of me."

Harsanyi, Senior Advisor to the Public Affairs Council, mentioned two people who've had the greatest impact on her life. "One who sent me to SIS, my father, and the one who sent me away from SIS, my former advisor Professor Sam Sharp."  
She was a Freshman English major at the University of Pennsylvania when her father came home from a work meeting in D.C. with a brochure from the School of International Service. "The brochure said, 'Program D: Business Diplomacy'–the classes sounded exotic. World politics and international law sounded much more interesting than dissecting Shakespeare and Chaucer," she said.  
By September of her sophomore year, she was enrolled at AU. "I applied, did the interviews, and came down to D.C. It all happened so fast." 
She loved SIS so much that she stayed for 11 years straight, long enough to obtain three degrees."I was a student with tenure," she says. 
Her dream was to be a college professor, but she chose a different path instead. "My advisor, Professor Sharp, knew me better than I knew myself. He said, 'If you really want to be a good teacher, you've got to get out and do something else. You have to leave SIS. You must leave this wonderful womb.' So I left campus, I left my friends, went downtown, and got a real job." 
Her career took off and for 30 years she managed the public affairs for several multinational corporations, including the Continental Group, Combustion Engineering, ABB Inc., and Tyco International. 
SIS, she says, gave her an international perspective when the United States was in the Cold War, as well as a commitment to service, and a set of values of that guided her professional life. "It made me comfortable maneuvering in the global society that we have become." 
Among the many values she names, all have a common denominator of seeking the truth both outward and inward, because "you better know who you are and where you stand." She says, "If you don't have Integrity, you don't have trust, and if you don't have trust, you don't have relationships. And if you can't build relationships, you're nothing here [in D.C.] 
Many friends, family, colleagues, and fellow alumni were there to celebrate her honor for outstanding service. SIS Dean Goodman said, "I have been a big admirer of Fruszi since I first heard of her distinguished business career and I'm honored she joined the Dean's Advisory Council." 
The Hungarian Ambassador, His Excellency Béla Szombati, called Harsanyi "a wonderful specimen of the combination of these two countries."  
"Hungary gave a bright young student to American University," then, in turn, "AU gave a great public affairs consultant and teacher to the world based on the raw materials that Hungary gave," he said. 
This fall, Harsanyi will return to AU to teach a class on International Global Public Affairs at SIS. She will also teach at Georgetown University and the Australian Center for Public Affairs. 
"I hope to replicate the learning partnership that I experienced while a student at AU," she said. She wants her students "not to be linear thinkers; to be curious and inquisitive; to be citizens of the world; to embrace diversity; to be comfortable with their roots because their very soul depends on that; to be proud Americans without being arrogant." 
"I want to guide the next generation of business managers so they don't just look at the bottom line, but the larger context on which they operate. I will forever be an advocate for an activist - and an action - orientated civil society; for people who say the good doesn't happen by itself, and the good doesn't stay good unless somebody intervenes. I think if we take this view, we have a chance of controlling the damage that may happen, averting the bad things that may happen, and just possibly making things a little better."