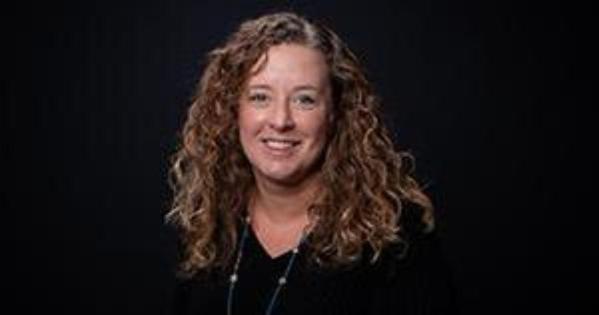 For young professionals just entering the job market, individuals in executive management represent the model of success, but communicating with them can feel like a daunting task. Tricia Gellman, CAS/BA '92, is working to change that. With two CMO titles already tucked under her belt, Gellman most recently became the chief marketing officer of Drift, where she started a podcast and newsletter that brings readers and listeners into the world of an ever-changing CMO position. 
"Younger marketers want to learn from marketing leaders," she says. "Getting the stories that people are willing to share of things they did wrong or learned along the way are always super useful for them."
One of Gellman's biggest tips for up-and-coming marketers is to remain flexible, a skill she started developing as a student at American University. While she was studying graphic design, the school introduced computers to design classes for the first time. She described the move as transformational because, as she graduated, computers were revolutionizing the graphic design field through digital design. 
After graduating, Gellman carried her newfound computer skills to design studios in DC, where she trained fellow designers on how to migrate to a digital space. Finding success as a teacher, she returned to AU as an adjunct professor where she shared similar lessons with students. As a professor simultaneously working in the field, Gellman used her first-hand experience with the changing design world to inform the ever-evolving coursework she presented. 
Growing comfortable with adjustment proved to work in Gellman's favor, particularly once the COVID-19 pandemic abruptly disrupted many conventions of the marketing field. She summed up the experience as figuring out how to continue to produce results with fewer tools in the proverbial box. 
Gellman took a step back and looked at Drift's returns on investments, cutting programs that created extra work, focusing attention on those that maintained her company's quality of production, and stretching every marketing dollar she had. Limitations even led to some successful experiments, which Gellman says will likely continue even after life returns to normal.
"We started doing virtual events [...] once a quarter. We get different people to speak, and nobody has a session more than 20 to 25 minutes," she says. "That's been super successful, and we have had hundreds of thousands of people register for those. We just kind of had to rethink the event category altogether."
A sure mark of a leader is a unique perspective, something Gellman prides herself on having. Her innovative solutions to marketing in the midst of a pandemic are proof enough. But with that perspective comes an equally important reminder to bring others along for the journey rather than strive for success alone, according to Gellman. 
"I've always been the square peg in the round hole, driving change and kind of moving people in a new direction," she says.