Alumni
Couple Returns to Campus to Celebrate 50 Years Together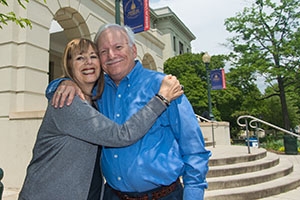 It was just after dinner on a Wednesday evening. Gerry Sommer, CAS/BA '66, a sophomore at the time, talks about it as if it were yesterday. "One of my fraternity's pledges asked if he [and his date] could ride with me to the spring weekend," he recalls. The fellow fraternity member had asked another freshman, Joni Palew Sommer, CAS/BA '67, to a dance, and he wanted Gerry to meet her beforehand. "I went along with it," Gerry says, and the group met briefly on the steps of the Mary Graydon Center to solidify their plans for a carpool.
Fifty years later, on May 15, 2014, Gerry and Joni returned hand in hand to that very spot to celebrate the relationship that came after that first meeting –and their life together since. The Sommers have been married for 47 years, have two daughters and four grandchildren, and still enjoy living in the Washington area. "We're very, very, very blessed," Joni says. 
At that Friday night event in 1964, the two say they began talking casually. "For some reason, I said, 'would you like to dance?' … and we've been dancing ever since," Gerry says with a smile. 
The Sommers look back on their time at AU with great fondness –and both recount it in remarkable detail. There were nights spent at Marshall Hall, an amusement park next to the Potomac River, restaurants they frequented (including their favorite special occasion spot, a place called the Charcoal Hearth on Wisconsin Avenue), and date nights at the newly constructed Dulles International Airport, where the young couple threw pennies in a fountain. "That was a destination date," Gerry says.
"If one of us was on campus without the other, people wanted to know where the other one was," Joni says. When Gerry had night classes at AU's downtown campus, he would use a CB radio to get in touch with Joni afterwards, and the two would catch a late meal together at a place called the Hot Shoppes. They regularly attended concerts and participated in Greek life events. "We saw some wonderful entertainment," Joni says, recalling a Ray Charles concert during her freshman year.
Gerry and Joni had both routines and agendas as their time together at AU snuck by. Gerry was looking forward to attending law school, and Joni received her degree in teaching a semester early so that the couple could save to furnish their first marital home. 
"We knew right away that we were very serious," Joni says. "We did not date anyone else –ever," Joni said. She told Gerry that she wanted to be engaged by her 21st birthday, and Gerry made that wish come true –at a celebration of Joni's birthday with their families in 1966. They were married the following year.
While Gerry and Joni say many things have changed since they were students at AU, they were delighted to return to the place of their meeting and reminisce about their time on campus. Gerry is a successful retired labor attorney, after 35 years of work on behalf of unions. In retirement, he is a part-time substitute teacher and spends many days playing tennis and golf. Joni completed 39 years as an elementary school teacher in Montgomery County, Maryland and is now very involved with the Brandeis National Committee and the couple's condominium homeowners association. The couple enjoys traveling –and dancing –together in their free time. Reflecting on their many years and accomplishments together, Joni says simply, "Life is good."