Alumni
Veteran, Politician, and Activist Jason Kander Talks AU and Mental Health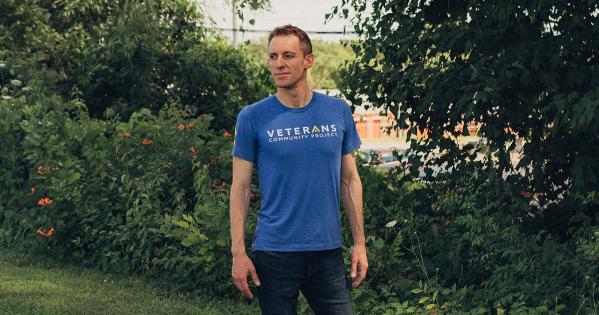 Jason Kander, SPA/BA '02, was a senior at American University when planes hit both Twin Towers and the Pentagon. Rumors of more attacks in the district circulated campus, calls back home to family and friends failed, and Jason had an "overwhelming desire" to help. So, he got on a line downtown, ready to donate blood to aid victims. 
"We waited in line for a really long time until they came out and said that they didn't have the capacity to take any more blood," Jason said. "And I remember the lady said, 'I hope you find another way to help.'"
That's when Jason decided to join the military. 
After he graduated with a political science degree from the School of Public Affairs, Jason attended law school at Georgetown University while participating in the Reserve Officers' Training Corps (ROTC). His choice to pursue law school and serve raised some eyebrows, he said.
"A lot of people were saying to me at the time, 'Why are you even going through this training if you can just finish your law degree and go straight in as an Army lawyer?'" Jason said. "But I felt at the time that I wanted to go in and serve because of what happened on 9/11. I felt I could make a more direct impact."
Jason volunteered to go to Afghanistan as an Intelligence Officer, a job his commander called "Thug Int.," short for "thug intelligence." His duty was to collect data and build relationships with locals to learn who might be infiltrating the Afghan government, or who was working with the Taliban or with Al Qaeda. Upon his return home, Jason took a position as an instructor at the Missouri Army National Guard's Officer Candidate School, where he taught combat skills to hundreds of soldiers. 
Jason's work in Afghanistan brought politics closer to home for him. He grew up privileged, he said; no decision a politician could make would take food off his family's table. 
"It went from a game being played between Republicans and Democrats to something quite real," Jason said. "When decisions are made based on politics, real people are affected by it. I understood that at an abstract level in our political science classes, but now I was actually experiencing it."
One political science degree, one law degree, and one deployment later, Jason decided to start his political career by launching the lobbying group Heartland Democrats of America. Through HDA, he helped raise more than $100,000 from special interest groups and individuals in support of Democratic candidates and causes.
And so it came as no shock when, in 2008, Jason was elected to the Missouri House of Representatives, and then, four years later, as Missouri's secretary of state. At 32 years old, he was the youngest statewide elected official in the nation at the time. 
After a close 2016 Senate race, speculation arose that Jason was running for president. But after several years in politics, and months of campaigning in early primary states, Jason decided it was time for a change of pace: he quit a life of airplane travel to run for mayoral office in his hometown of Kansas City. 
"My kids are sixth generation Kansas Citians," Jason said. "In fact, I love this place. And I just thought, 'Maybe that'll fill the hole inside me.' But it didn't, of course, because that wasn't the problem. The problem was that I had undiagnosed and untreated PTSD."
In a public move that shocked political affairs fanatics, Jason dropped out of the mayoral race to get help for his symptoms at Missouri Veteran Affairs. In that week, calls to the Veterans Crisis Line tripled.
"A lot of people reached out for help across the country after I made my announcement that maybe otherwise wouldn't have," Jason said. "And that was very emotional for me. It's the first time I've ever felt like I actually helped some people get home safely."
Inspired by his ability to create positive change for other veterans, Kander began working with the Veterans Community Project -- the same group that helped him through his PTSD and depression. Now, as president of the VCP, he's leading the national expansion of the Kansas City-based nonprofit with plans to build housing in eight other communities in the next three years.
"I think we started to do a very good job of convincing people that there's nothing weak about asking for help," Kander said. "And that there's nothing wrong with needing help."
Kander is challenging the widely held notion that discussing psychiatric disorders damages political careers. His upcoming book, Invisible Storm: A Soldier's Memoir of Politics and PTSD, is scheduled to release in summer of 2022. 
Help support AU's Veterans Resource Fund and assist our military-affiliated students by providing the guidance and support they need to succeed at AU and in their future careers.