Alumni
Alumnus Exemplifies AU Values Through Commitment to Public Service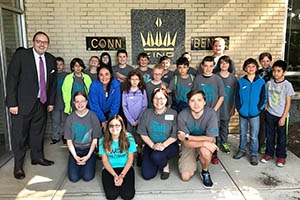 Kevin Malecek, SPA/BA '01, SPA/MA '02, is a true public servant - showcasing what AU inspires in so many of its alumni.
In 2010, Kevin received the AU Rising Star award, following his impressive accomplishments as director of the part-time MBA program at Case Western Reserve University, president of the Willoughby Hills City Council, and president of the Laketran Board of Trustees, a public transportation service. He accomplished all this while also working tirelessly as a volunteer in his Cleveland community.
Kevin certainly did not stop there. In 2011 he began serving as the president and CEO of the Mentor Area Chamber of Commerce (Cleveland suburb) and moved into public office in 2015, when he was appointed as a Lake County Commissioner.
"I have always had an extreme interest in government and politics - and trying to do things to help people through those avenues," Kevin notes. And it's easy to see what he means. His commitment to community is deeper than ever and continues to grow.
Lately Kevin has taken on a new challenge working on special projects and development at Lakeland Community College. "Lakeland has always been not only an education hub in our community but also a cultural and community hub," he explained. "It was really a chance to come here and be an active part of trying to plan out the future for this campus and the future for community college education in this region."
Lakeland Community College serves a wide array of students, from high school to nontraditional adult learners returning to the classroom, to single mothers and veterans. "We really try to serve all facets of society and that's kind of an exciting thing to be a part of-that process and making sure they can achieve their goals," says Kevin.
Kevin remains actively involved in various charitable organizations and councils supporting those in need, the arts, economic development, and more. He cites his time at AU as pivotal to how his future has taken shape, noting AU offered an experiential education in Washington and access to public service through experiences. Attending AU was "the best decision of my life," he says. "The fabric that was woven and created at American for the rest of my life, both personally and professionally, is something I treasure and something I don't think I could have gotten anywhere else."
Today he is in his fourth year of service on the Alumni Board, he is a mentor to current students, and he often returns to SPA to teach courses or present guest lectures. Kevin explains, "giving back has been a big thing for me to do because the university and community gave me so much when I was there."
For fellow Eagles seeking to follow his path in public service, Kevin offers the following excellent advice: "The most important thing to do if you are going to be in public service is to be responsive and to listen well. [...] You need to be able to listen to what their needs are, try to anticipate what their needs are while you're listening, really being an active listener and figure out what can I do to help them solve their problem, or if I can't solve their problem, what can I do to make it a little bit easier for them."