Alumni
LaTanya Sothern is a Voice of Unity and Hope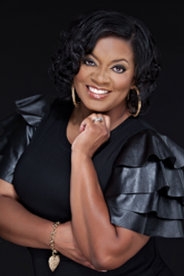 When LaTanya Sothern, SOC/BA '92, came to AU in the fall of 1988, she immediately began bringing people together. Her floor mates in Letts Hall frequently gathered in her dorm to chat about life, watch television, and eat home cooked meals her mother sent. She rallied her classmates to attend basketball games. LaTanya reflects, "I've always wanted to connect groups of people together - if you're in a group you can relate to, it makes life easier to manage."
To this day, LaTanya continues uniting people and making the AU experience the best it can be for students. She still meets up with her sorority sisters on weekends, keeps in correspondence with her mentors, and remains engaged with the AU community. As co-chair of membership for the Black Alumni Alliance and as a member of the Alumni Board, she constantly advocates for students and works to push the university to new heights.
LaTanya also serves as an assistant principal for Prince George's County Public Schools. Tying her career and passion for AU together, she enjoys bringing students from local communities to campus to show them AU is a viable option within their reach. She says, "I want people to have hope and know their situations aren't the be-all and end-all." LaTanya knows the importance of faith, as she persevered through economic hardship as a child, the loss of one of her babies, and has raised and advocated for her son with a rare musculoskeletal condition.
As she spoke about the long-term relationships she built at American, LaTanya said, "My heart and soul is at American University." This is why she goes above and beyond to give back and remain present within the alumni community.