Alumni
Eagle Legacy: Mother and Son Find Shared AU Experience A Generation Apart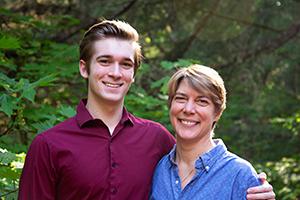 I was 13 the first time I visited American University, staring in awe at the tall students that walked by me on their way to class, trying not to lose my mom, Vonda Witley, SIS/BA '87, in a sea of bodies. We ate lunch in the Tavern that afternoon, and I remember feeling inspired by the stories that my mom recounted from her time at AU, wishing for nothing more in that moment than to be a college kid. 

Five years later, I followed in my mom's footsteps, enrolling at AU with a double major in journalism and environmental studies. After my first year in DC ended all too soon because of the COVID-19 pandemic, I returned to my home in Washington State. It's been an interesting experience having to return early, but it's given my mom and I the opportunity to reconnect over our shared experiences at AU. 
My mom found herself drawn to AU after living abroad in Finland during her junior year of high school and uncovering the world that existed outside of rural Pennsylvania. After her first campus tour, she knew that the School of International Service was the ideal place to further explore intercultural communications. Her AU tenure provided unique opportunities like access to a book symposium focused on ending hunger and continued global experiences, taking her on an alternate break to the USSR and a full exchange year in Denmark. 
"I loved life in Denmark so much that I stayed an extra semester to immerse myself in Scandinavian culture," she recalls. "When I returned to AU, I was able to declare a specialization in Scandinavian Studies to supplement my SIS degree." 
When my mom graduated cum laude from AU, she held her diploma in one hand and a passion for public service in the other. Interested in the connections between international relations and maps, she started her first job out of college with the Association of American Geographers. What began as a job she found on the bulletin board of the Career Center took her plans for the future and flipped them upside down. Over the next year, my mother worked increasingly on designing AAG's newsletter, discovering an unknown passion for graphic design and desktop publishing. 
Armed with a Macintosh computer, she pursued her love for design as a graphic designer at a computer consulting business. The next four years became what she refers to as her "practical learning period," transitioning away from her academic learnings in international relations and towards design and publishing. After a successful run in Washington, DC, working on projects with organizations ranging from the Urban and Regional Information Systems Association to the World Bank, my mom moved to the west coast to start her own business. VisionSeed Publishing attracted the attention of employers at the Washington State Department of Health, where she's now worked for the past 20 years.
In a way, her job at DOH perfectly blends my mom's academic passions for intercultural communications and her lived experience as a graphic designer. Often, her information design is translated into more than 16 languages and distributed to numerous cultural communities across the state. She credits SIS for giving her the cross-cultural communication skills needed for such a feat, citing professors like the late Gary Weaver, who even now reminds her of the importance of listening to others to effectively communicate. 
"In my final year, I did an independent study with Gary Weaver about individuation where we synthesized the teachings of cross-cultural anthropologist Edward T. Hall. The final paper, "Diamond or Coal," from that study is one of the few that I've kept," she says.
My mom recently decided to re-invigorate VisionSeed Publishing, emphasizing her editing and publishing abilities to tell the stories people have within them. As for me, I've chosen to take storytelling in a slightly different direction. By studying journalism at AU, I hope to raise awareness about the environment with my writing. I am forever grateful to her for introducing me to American University and the paths that now lay ahead of me.