Alumni
AU Alumnae Release Synchronized Skating Documentary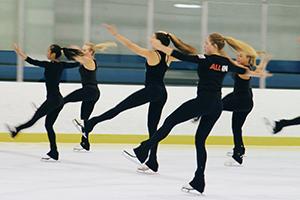 Angela Pinaglia, SOC/MFA '17, calls it the "toughest sport you've never heard of." Synchronized skating, introduced in 1956, is one of very few sports without a male alternative. In competition, groups of eight to 20 skaters move as one unit, their synchronicity a testament to countless hours spent training on ice. Yet, despite the blood, sweat, and tears each team gives for the sport, synchronized skating lacks the level of recognition Olympic sports like figure skating receive. Three AU alumnae are on a mission to change that with their documentary Life in Synchro. 
Angela grew up in Miami in a working-class family where interactions with the art world were far and few between. Unsatisfied with her education degree from the University of Florida, Angela yearned to pursue her passion for film. American University proved to be the perfect setting for her to chase that dream. As a graduate student, Angela met and befriended Sarah Nelson, SOC/MA '13, who later became the cinematographer for the film. During a summer communications program for high school students, Angela also met Nicole Davies, SOC/BA '11, SOC/MA '15, and the two hit it off immediately. "We bonded over our love for spreadsheets," Nicole jokes.  
Nicole, a synchronized skater since age nine, competed at the international level in high school but decided not to pursue it at a competitive level in college. However, her love for the sport stayed so strong that she decided to share it with her newfound friend. Angela, who describes herself as, "everything that skating is not," walked away from her first synchro show in amazement. Inspired by the empowering nature of skating, she knew the sport deserved a documentary. 
Over the next two years, Angela traveled the country to capture the visual beauty and empowering story of synchro. On the road, she discovered that, despite its technical skill, synchronized skating has never been featured in the Winter Olympics. Angela, Nicole, and Sarah hope that Life in Synchro will raise enough awareness to put synchronized skating on the global Olympic stage. With the combined creative talents of three AU alumnae backed by a small team, this film is well on its way to spreading such awareness. The documentary has already been accepted into seven film festivals across the country. 
Life in Synchro is Angela Pinaglia's debut documentary film as a director. Sarah Nelson served as cinematographer, and Nicole Davies produced the film. See the quick links section to watch the trailer and learn more about the film.