Alumni
Virtual MCAR Inspires Connection and Engagement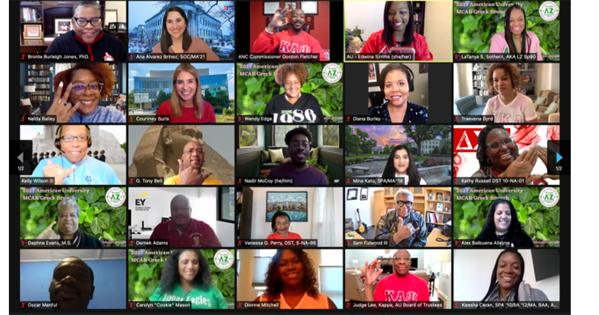 The annual Multicultural Alumni Reunion, known as "MCAR," celebrates the diverse cultural identities of American University's alumni community. Earlier this month, community members gathered to reconnect with the AU community, deepen bonds, and enhance the university for the next generation of AU Eagles. 
Despite a pivot to virtual events, alumni successfully created meaningful programs to celebrate, educate, and enhance a greater sense of belonging across the AU community, welcoming alumni from as far away as Ghana. 
MCAR continues to bridge connections by celebrating the cultural diversity and excellence that exists within the AU community. "Every MCAR provides AU and the broader alumni community a chance to reengage and reconnect with our distinguished AU Eagles," said Alumni Association President Jonathan Mathis, PhD, Kogod/BSBA '04.
 
In the interest of fostering greater involvement and advocacy, MCAR featured three events: a Career Networking Reception, the return of MCAR's signature event Celebrate!, as well as the Multicultural Greek Brunch. This year's Greek Brunch welcomed members of AU's Cabinet, President's Council, and Board of Trustees, which amplified the event's theme of "The Power and Influence Within a Community of Changemakers." Dr. Brontè Burleigh-Jones, Kogod/BSBA '91, Kogod/MBA '93, CFO, vice president and treasurer, offered remarks and acknowledged her colleagues, making special note that seven of nine President's Council members are members of Greek-lettered organizations.  
 
Each event highlighted trailblazing changemakers in the alumni community who are expanding pathways for access and success for future generations. "Although the platform was different, the authentic love shown at all of the events was the same," said LaTanya Sothern, SOC/BA '92. "As usual, it felt like home, and I'm energized and even more excited to see everyone in person next year."
 
Guests were especially grateful to President Burwell and Dr. Fanta Aw, Kogod/BSBA '90, SPA/MPA '94, CAS/PhD '11, for their remarks at MCAR Celebrate!, as well as to members of alumni multicultural affinity groups who served as the 2021 MCAR co-chairs: Ana Rocio Alvarez, SOC/MA '21 (Latino Alumni Alliance), Gordon-Andrew Fletcher, Esq., SPA/BA '06, SPA/MPAP '17 (Black Alumni Alliance), Mina Kato, SPA/MA '18 (Asian and Pacific Islander Alumni Alliance), and Yamillet Payno, CAS/BS '17 (Latino Alumni Alliance).