Alumni
Meet Michael Beard, Advocate, Actor, and AU Alum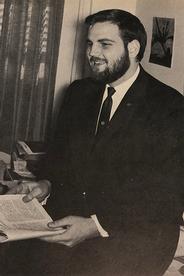 As we read Twitter, turn on the news, or pick up a paper, gun violence appears to be inescapable. This isn't new. Michael Beard, SPA/BA '65, from an early age, experienced gun violence and, in 1974, decided to take action. He founded the Coalition to Stop Gun Violence (CSGV).
As a child, a friend of Mike's accidentally killed himself while playing with a gun that he found. Mike still remembers looking forward to a playdate that same afternoon, only to learn he'd never see his friend again. Later in life, Mike interned and worked under President John F. Kennedy, and again gun violence impacted his life.
With the creation of CSGV, Mike's advocacy work encouraged conversations and drove support of legislation that would provide Americans with communities free from gun violence.
In the coming years, Mike would like to see CSGV consider ways to encourage gun control that move beyond bans, exploring creative use of tax laws (similar to heavy taxing implemented in the 1920s with submachine guns). He also hopes the organization will dive further into partnerships studying public health research on the long-term impacts of gun violence.
Mike also has left a mark on the DC community beyond his advocacy work. He belongs to the Screen Actors Guild and the American Federation of Radio and Television Artists. "I love opera but I could never afford to go, so I ended up one day at the Kennedy Center, auditioning for a non-singing actor role." This led to his participation as an extra in more than 30 operas and ballets in Washington. He discovered that he enjoyed this creative reprieve so much that he ended up signing with a DC agency. He was cast in television shows, including, Homicide: Life on the Street and America's Most Wanted, the latter of which he was a regular on for seven seasons. Mike credits his recurring role with the fact that, at CSGV he'd recently introduced computers and during the show's audition, was the only extra who could operate a computer, making him a natural fit to play an officer seen entering data into a computer.
As a student at AU, Mike belonged to numerous social and political clubs. According to Mike, there are three key factors that shaped his life: his parents, the Methodist church, and American University.
Mike remains incredibly thankful for his AU mentors, who helped shape his career, and his advice for those who have something they're passionate about but aren't sure where to start is to "Jump in and do it. If you see a hole somewhere that needs to be filled, go ahead and fill it. You can worry about the impact it's going to have on your future career or you can go out and do something about the problem."
AU also introduced Mike to his future wife, Melinda (Meriam) Beard, SIS/BA '65. While confident from the first time he met her that she was the woman he wanted to marry, they were friends for six months before he got the courage to ask her on a date. They were married for 54 years before she passed away.
"[AU] Introduced me to a world I didn't know existed," he says.