Alumni
What It Means To Give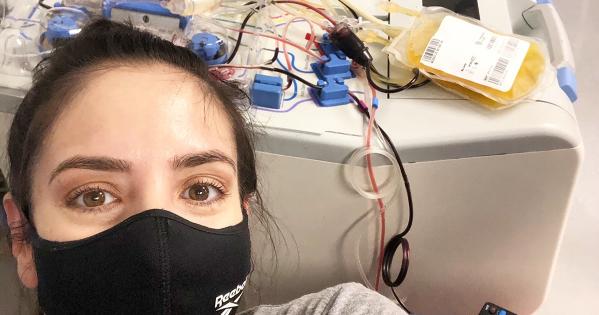 During a typical December, you would probably find Melissa Sullivan, SPA/BA '16, volunteering at organizations like Wreaths Across America and DC Central Kitchen during her free time. But with the COVID-19 pandemic disrupting her typical ways of giving back to her DC community, Sullivan decided to donate her convalescent plasma after recovering from the coronavirus in August. 
Born into a family that emphasized the importance of giving back to one's community, Sullivan began pursuing volunteer opportunities independently at a young age. Her first major community service project came in her sophomore year of high school when she founded Operation HERO (Helping Everyone Reach Out), an organization that sent thousands of care packages to soldiers in Iraq and Afghanistan. Her decision to donate plasma multiple times is a natural continuation in her legacy of service and one that is making all the difference. 
Working as a press officer for the Environmental Protection Agency, Sullivan was assigned to an interagency White House task force focusing on pandemic-related messaging when COVID-19 first gripped the nation. There, she says, she first learned about the benefits of giving plasma from recovered patients to infected patients, a strategy that helps individuals fight off the virus earlier. She was again reminded of plasma's benefits after reading articles about it in the news as she recovered from coronavirus. 
Each plasma donation that Sullivan makes goes to three or four people, but that's not the only way she's been providing service in the past year. After connecting with the local AU alumni community last year and attending several events, Sullivan felt a draw to do more with AU. So when she saw a volunteer call for AU's Virtual Conversations program, which connects current students with accomplished alumni for career advice, connections, and more, she couldn't resist. Through that program, Sullivan met three undergraduates and now helps them build professional connections and improve resumes. Looking towards the future, she is excited to continue building connections with her AU community. Sullivan is set to donate plasma for the third time next week, and urges anyone who is able to donate plasma, money, or time to do so during these unprecedented times.