Alumni
Sean Graham: Alumnus, Track Coach, Alumni Board Member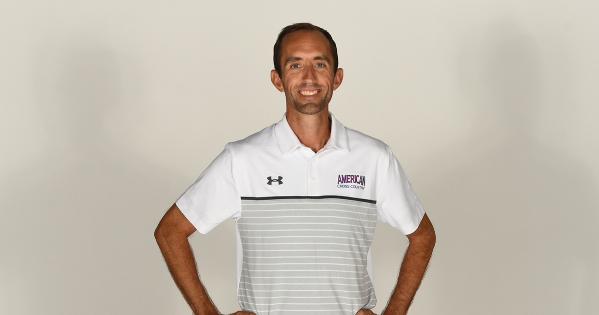 Before Sean Graham, Kogod/MBA '11, became a member of the American University alumni community, he was a competitive runner who qualified for two US Olympic Trials. His track as a runner would eventually lead him to an education and career at AU.
Sean reached All-American status as an undergraduate student at William & Mary before racing professionally with Nike after graduation, where he met his roommate and AU alumnus, Sean O'Brien, CAS/BS '03. Since Graham was searching for graduate schools to attend at the time, O'Brien encouraged him to check out AU.
Months later, Graham landed in DC to attend the Kogod School of Business and serve as the university's assistant running coach, a position he held for three seasons.
"Everybody that I came in contact with at AU has helped me along to be in the position that I am right now," Graham recalled.
Today, Graham is the head coach AU's Cross Country and Track & Field programs, a member of the AU Alumni Board, and a proud recipient of an AU Master of Business Administration degree.
While he credits his athletes and the surrounding community for much of the university's running program success, Graham's influence is undeniable.  
Recently, the women's Track & Field team posted the highest overall GPA among Division I teams across the nation, speaking to Graham's ability to challenge and support his athletes on and off the field.
The impressive accomplishment marks the team's fourth consecutive All-Academic Team Award and the second time they ranked within the top-five of Division I.
"These women hold themselves to such a high standard in everything they do and seeing this result of their hard work leading all other teams is very well-deserved. I am so very proud and impressed by their commitment to athletic and academic excellence here at AU," Graham said.
In other 2021 highlights, Sean took the lead as a top fundraiser for Founders Day, with the running program raising more than any other athletic program.
"We're trying to build something really special here and it's just been a really exciting time engaging the alumni base and the athlete's parents and keeping them up to date on our progress," Graham said. "I'm just so grateful for the outpouring of support that we received this year."
Beyond his involvement in coaching and fundraising for the university, Graham decided to join the Alumni Board two years ago, an opportunity he describes as a "phenomenal experience." During his time on the board, he and his fellow members have addressed many issues, chief among them figuring out how to better align the student and alumni experiences.
"We got to do some really rewarding things in terms of starting initiatives like the student emergency fund for those hardest hit by the COVID-19 pandemic," Graham explained. "The people I've gotten to work with on that board are so diverse in their experience and yet exactly the same in their excitement for AU, so it's just been a pleasure to work with all of them."
Though his two-year term on the board expires at the end of this year, he plans to continue coaching the running program and remain actively involved in the university community.
"I've been given the opportunity to do a lot of different things here and it's been really rewarding," Graham said. "I'm very grateful to AU for creating an environment where that's possible."