On Campus
Alumni Association Celebrates, Welcomes Class of 2010 Graduates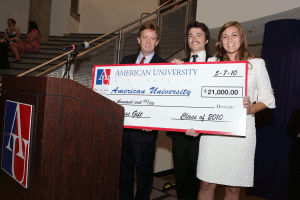 More than 2,000 students from the class of 2010 crossed the stage at Bender Arena last weekend, proudly joining the ranks of alumni – and the American University Alumni Association was on hand to fete and welcome its newest members in style in the days and weeks leading up to the big day.
Soon-to-graduate seniors began celebrating their final time on campus more than a week before commencement, with Alumni Association-sponsored barbecues honoring each school at the President's House. While seniors heaped healthy portions of Red, Hot, and Blue barbecue on their plates, there was plenty of praise and congratulations piled high by the faculty, staff, and alumni in attendance.
On Friday night, May 7, nearly 900 excited seniors and their families and friends gathered in the festively decorated Katzen Arts Center for the annual Toast to Graduates. The sold-out event expanded beyond the planned space in the rotunda to the second floor balcony – and further into the night than past years, too.
"It was great see so many of the newest members of AU's alumni family gathered at the Toast to Graduates with friends and family. As we transition our students into the working world, it is important for them to know that the AU alumni network is strong and can be of assistance to them, and this event serves as a great foundation for that lifelong relationship," said Raina Lenney, assistant vice president of Alumni Relations.

For 2010 Class President Kristie Cole, the presentation of the class gift during the evening's program was an especially proud moment. "The generosity of our classmates and their families led us to exceed our goal. The coffee shop outdoor patio of the new SIS building is a great legacy for our class and we are excited to leave this gift to future students."

For the second year in a row, commencement services were held across Saturday and Sunday, to allow more family members to see their students graduate. Seniors and newly minted master's and PhD students alike strode across the Bender Arena stage to shake hands with their respective deans and President Kerwin, while taking in the wisdom of the commencement speakers selected to inspire them from industries related to their fields of study.
The School of Communication commencement ceremony, the first of the weekend, featured a call to action from graduating senior Molly Sauer, before Academy Award winning filmmaker Barbara Kopple took the stage: "Class of 2010, our impatience has paid off," said Sauer. "It hasn't been easy, and by all accounts it won't get easier any time soon. But that never stopped us before. It's your turn to answer, and answer with your actions. What will you do?"
The founder, president and "TeaEO" of Honest Tea, Seth Goldman, offered eight pieces of advice to Kogod School of Business from his own experience, including a Chinese proverb, "Those who say it cannot be done should not interrupt the people doing it."
Secretary of Homeland Security Janet Napolitano used Michelangelo's sculpting philosophy as an analogy for the value of an AU degree to the College of Arts and Sciences graduates she addressed. "AU has given you the best carving tools imaginable. And in a world filled with the opportunities created by rapid change, setting free your visions is easier than it has been for any previous generation."
The newest generation in alumni can rest assured that opportunities to stay involved are ready and waiting through the active Alumni Association network and vibrant Young Alumni Chapter.
"Alumni who leave D.C. after graduation can volunteer for any one of 30 regional and international alumni chapters. Chapters plan social events, sponsor traveling faculty members, assist with Admissions efforts, and work to connect alumni and prospective students in their region with the life of the university," said Suzanne Smith, assistant director of Alumni Relations for AU.
Young alumni in the D.C. area are invited to attend their first alumni event at the nearby Hyatt in Bethesda to hear SOC professor Chris Palmer speak about his new book, "Shooting in the Wild." For a complete listing of all upcoming alumni activities, view the alumni events calendar.