Alumni Success Story
Building Connections Through Student-Alumni Dinners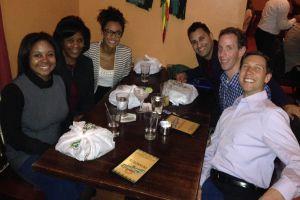 The Dinner with Alumni program offers a unique opportunity for alumni to engage with and mentor current students in a collegial and relaxed atmosphere different from other larger networking events. Alumni host small groups of students at local restaurants and facilitate conversations about the student experience at AU, industry inside tips, and career goals. The program provides alumni with a way to give back to the university by sharing their experiences and advice with AU's future alumni.
During the Fall 2016 semester, alumni from all academic schools and a variety of industries, including national security, public relations, government affairs, and human resources, hosted 14 dinners engaging nearly 80 undergraduate and graduate students. Not only do the participating students get to interact with and receive advice from top professionals and AU alumni, but the alumni also greatly enjoy their time connecting with students. Suzanne Ffolkes, SOC/BA '84, SOC/MA '05, says of her experience as a dinner host: "We had a great time sharing stories and learning more about everyone's work and career goals." Jolene McNeil, SPA/BA '97, shares, "I probably leave our dinners with more than the students because I am reminded of my undergraduate days and I know I have made a difference."
For some alumni, like George Whitehouse, Kogod/BS '69, DWA provides an avenue to reconnect with the university and to make connections with, specifically, Veterans students. "I was made aware of the increasing influence of the Veteran community on campus, and as a Combat Veteran of the Vietnam War, I was interested in getting involved with this group," George says. "I have hosted two dinners and have found them informative and rewarding."
Sara Nieves-Grafals, CAS/BA '75, CAS/MS '79, CAS/PhD '80, enjoys seeing students come together. She explains, "The latest dinner I co-hosted ended up bringing together students with similar interests who had never met each other. By the time we headed home, students were planning group outings. It was very uplifting." For Kristen Eastlick, CAS/BA '95, SPA/MA '96, "no two dinners have been alike! At some dinners, students asked many questions about the employment process and how to get hired in a DC public policy position. At others, we spent more time on how to take advantage of a Washington DC college experience."  
Alumni hosts often leave the dinners feeling inspired and with a greater sense of pride for their alma mater. Alan Luba, SPA/BA '71, states, "[the students'] company is stimulating and gives a great sense of confidence and pride in our AU 'descendants' and high expectations for what they will contribute to our world." Jordan Haverly, SPA/BA '09, tells us, "Each new group of AU students I meet makes me proud to have chosen AU, and shows me why our university's reputation grows more prestigious year after year."  
If you are interested in learning more about the Dinner with Alumni program and how to get involved, please contact EmilyAnn Walrath at walrath@american.edu.