Alumni Success Story
Alumni Spotlight: George Whitehouse (Kogod/BSBA '69), US Army (1970-1974)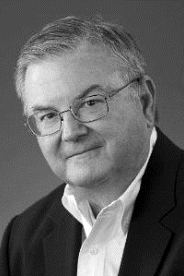 When George Whitehouse, Kogod/BSBA '69, graduated from American University in the thick of the Vietnam War, the accounting skills he learned in Kogod were put to use as an Army fire direction Sergeant in the A Shau Valley, among other locations. Since then, he has served as the Alumni Board President, the founder of several successful companies, and a fierce networker.

"You probably won't graduate when you think you're going to. There's this thing called Vietnam going on…" Whitehouse recounts, as he shares a memorable quote from his father. After growing up in Bethlehem, Pa., Whitehouse knew he wanted to study at American University. He remembers the many protests of the war that filled the city. In coming home, Whitehouse says "[We] didn't get the reception that veterans get today, and I'm happy to know how the new generation is treated nowadays—they earned it."

Whitehouse is easy to get along with, quick with a laugh or smile, and perpetually interested in sharing his network with other veterans. "I really like to use LinkedIn to stay in touch with people and help students find good opportunities," he says. Whitehouse has several thousand connections on LinkedIn—a network that would assuredly help current student veterans find promising leads.

Whitehouse maintains a long-time interest in supporting the university and its students. He served on the Alumni Board in multiple roles, including president for two terms from 1998 to 2002. Later, when he learned about the newly formed chapter of Student Veterans of America, he sought to get involved with AU Vets. He says, "I was really excited to see students welcome the visibility of veterans on campus, and to see them host a Veteran's Day program," noting the annual Veterans Day event held on the quad.

In true American University fashion, Whitehouse is also politically active in Maryland, where he is involved with advocacy to the state legislature. "I got started several years back with the Maryland Association of CPAs, the Payroll Association, and a committee within the Chamber of Commerce," he says. Whitehouse is part of a coalition that helps to monitor and discuss legislation that would affect their industry, then works to ensure good policymaking occurs.

As a veteran, active alumnus, and a born connector, George Whitehouse has demonstrated that "once an Eagle, always an Eagle" rings true for many. To reach Whitehouse, find him on LinkedIn or send him an email at gawhitehouse@prodigy.net.