Alumni Success Story
Green Leader Puts Energy into Cleaner
World One Community at a Time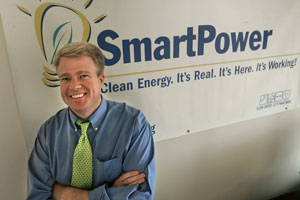 Brian Keane, SPA/BA '89, wants you to contact your utility company and ask for clean energy. The founder and president of SmartPower, an award-winning, nonprofit dedicated to promoting clean, renewable energy, admits it will probably cost a few dollars more each month. But the rewards will be far greater in the long run.
Americans know clean energy is good for the environment, public health, and national security (due to less dependence on foreign oil), Keane explains. It's as strong, reliable, and available as coal and oil.
His challenge is teaching consumers that solar energy still works when it's not sunny, and wind energy still works when there's no breeze.
Once you request your utility company to buy clean energy, the only thing that changes is it's a little cleaner, using an independent energy strategy, he explains.
Keane, who has served as president of the AU Alumni Board since 2006, likens his company to the "Got Milk?" people for wind and solar energy. Every day, his goal is to convince Americans we really can buy clean energy. While college students canvas neighborhoods sharing the clean energy message, SmartPower staff in those same regional markets buy radio, television, and newspaper ads and work closely with local nonprofits to get the message out in a highly coordinated marketing effort. 

By teaming up with states with public benefit funds, like Connecticut's Clean Energy Fund, and Pennsylvania's Sustainable Development Fund, SmartPower is able to help those firms producing clean energy spread the word to the public that clean energy works and is easily attainable.
"We went to Pennsylvania and said, 'if you give us $300,000, we'll put in $100,000 of our money' to leverage funds. Then we ran a marketing campaign on clean energy."
Some of the companies and communities SmartPower worked with to buy and use clean energy include Staples, Kinkos, Whole Foods, the City of New Haven (Conn.), and Providence, R.I.
In addition to watching the list of companies and communities who buy clean energy grow each month, Keane also measures SmartPower's success via tracking polls showing a spike in clean energy usage; and increased traffic to their Web site when SmartPower is campaigning in particular markets. His ultimate goal: 20 percent of the nation's power grid composed of clean energy by 2010.
"If enough businesses, colleges and universities began buying just a portion from clean, renewable energy sources, it would really become sustainable in the marketplace."