Alumni Success Story
Jim McGovern Honored with
2008 Alumni Achievement Award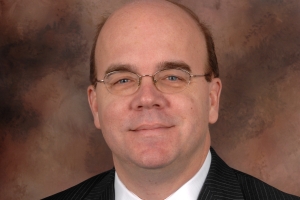 Massachusetts Representative Jim McGovern, CAS/BA'81, SPA/MPA'84, majored in history as an undergraduate student and still remembers his first day at AU, more than 30 years ago. "I remember my very first class taught by Valerie French and Allan Lichtman called Historians and the Living Past," remarks the Congressman. "A lot of the lessons I learned still remain with me today…I still have the textbook and reading materials that I refer to."
A self-proclaimed average student, McGovern really enjoyed his years at AU. "I can't tell you that I performed exceptionally, but I learned a lot from [my classes]," remarks McGovern. A native of Worcester, Mass., McGovern chose AU because he was interested in politics, government, and history in addition to its premiere location. "I thought Washington, D.C. would be a good place to go to school," he remarks. "For me, it was a great fit."
During his time at AU, McGovern was head of the Kennedy Political Union (KPU) and active in College Democrats. Through these roles, he met several influential people including Senator Howard Baker, Jr., Ramsey Clark, and Mo Udall. "To be able to have the ability to not only read about these people, but to have them there on your campus was a great highlight of my experience at AU," remarks McGovern.
Almost all of McGovern's AU memories have to do with the people he met—including university staff, his fellow students, and the faculty. "The faculty at AU are second to none. No university or college has a better faculty. They are very much engaged in what is happening around the world."
Even while at AU, Congressman McGovern was active on the hill interning with Senator George McGovern of South Dakota (no relation), whom he still describes as one of his best friends. Congressman McGovern continued working on the hill full time throughout graduate school as a senior aide for Representative Joe Moakley, taking advantage of those class offerings at 8:10 p.m. McGovern was first sworn in as U.S. Representative for Massachusetts' 3rd Congressional District in 1997 and is currently serving his sixth term in that capacity.