Alumni Success Story
Social Innovation with a Global Focus: How Tighe Wall makes an impact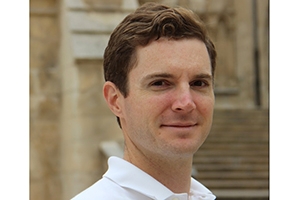 As an editor and writer for the Princeton Review, Tighe Wall, Kogod/MBA '11, edited the guidebook to the 191 Best Business schools. When it came time to select a graduate program for himself, American University's Kogod School of Business was at the top of his list. Now, as a managing consultant in the social business global center of competence at IBM global business services in London, Tighe credits AU's global perspective to his success. Coming to AU, he says, gave him the opportunity to "build a small international business base in the U.S. and gain entrepreneurial skills."
During his time at Kogod, Tighe worked as an innovation and entrepreneurship research assistant with Professor Stevan Holmberg and interned with IBM. He says his experience "supplemented what I was learning with real world experience. AU has a real campus and all of the other attributes of living in the city are at your fingertips." 
Tighe continued to excel at Kogod and, as the commencement speaker for the business school's graduate students, urged his classmates to "keep taking chances and embrace new experiences."
His work caught the attention of the social business group, a small global group consisting of experts in the field within IBM who shape the company's point of view on the application of social networking tools and culture to business roles, processes and outcomes. He now works in London and has a portfolio of clients all over Europe.
Though he's moved to London, Tighe stays connected to the university. He is a member of the Alumni Board and serves as an alumni admissions volunteer. He sees these opportunities as ways to give back to the university, and as someone who went to AU for graduate school at Kogod, he brings a unique voice to the group.
According to Tighe, "Going through Kogod changed the way I think of the larger business community and global business. It broadened my perspective and fundamentally changed the way I understand how the business world works –the curriculum and the professors and thinking of business functions as a piece of how a larger organization operates." That global perspective has paid off.