Alumni Success Story
A Global Perspective: Merging International Relations with Art
Kathryn Wysocki Gunsch, SIS-CAS/BA '01, shares how she combined her love of international relations with art history.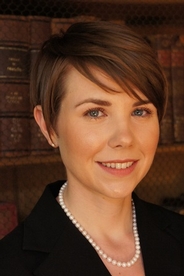 American University was the perfect fit for Kathryn Wysocki Gunsch, SIS-CAS/BA '01. Upon arriving on campus as a freshman, Kathryn's goal was to be the Ambassador to Russia, but a fateful encounter with Professor Mary Garrard, now professor emerita in the university's Department of Art History, changed her course. 
Professor Garrard helped Kathryn see that art history was a fascinating mix of everything she loved about international relations –economics, religion, politics, and culture. "American made me feel like I could put together seeming disparate courses and merge my two passions," Kathryn says. She decided to double major in international relations and art history, and received degrees from both the School of International Service and the College of Arts & Sciences in 2001.
Kathryn credits AU for helping her become a self-advocate. "Other places," she says, "might have said that art history was not a practical dual major with international relations." Yet her career has taken her from working with non-profit organizations Internews Network and Plan USA, to associate curator for African art at the Baltimore Museum of Art. 
Now the Teel Curator of African and Oceanic Art at the Museum of Fine Arts in Boston, Kathryn has the opportunity to explore all of her passions. She spends her days researching the collection, so that she can help to better present the museum's holdings to the public in the form of online collections, publications, and exhibitions. She loves examining objects and learning how they played a role in the global, political, and economic history of Africa and Oceania. 
"American set me up for this very international experience," she says, "and encouraged me to explore the great wide world." Recollecting a story about how an artwork from ancient Greece depicts a visitor from Sub-Saharan Africa, she says she realized that "it's been a cosmopolitan world, for longer than most people imagine."