Alumni Success Story
Peace Corps Experience Inspires Career Path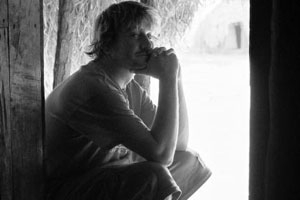 When Aaron Hall heard stories from a professor he had at the University of Montana who had served in the Peace Corps, he knew it was something he wanted to pursue.

Aaron, who attended AU, applied and accepted the first Peace Corps assignment offered to him. He found such a passion for natural resource management while serving in the Peace Corps in Zambia from 2002-2004, that he extended his two-year assignment and stayed for a third year.

"Everyone says this, but I really believe my Peace Corps experience was the quintessential experience," says Aaron. He participated in Peace Corps as a community- based natural resource management volunteer in remote areas along the border regions of Zambia's national parks. "The most exciting part of volunteering in Zambia was living on the edge of the game parks – it was a very bush-African experience," he says.

While in Zambia, Aaron partnered with local schools to teach environmental education as well as worked with local farmers and women's groups in areas of farm design, conservation farming techniques, and the development of income-generating activities.

When the U.S. invaded Afghanistan in 2003, Aaron found himself acting in a de-facto diplomatic role, responding to questions and concerns from his Zambian neighbors about the motives and actions of the U.S. "As a result of the invasion, I learned the importance of diplomatic work, and the image of the U.S. overseas" Aaron says. "I knew I wanted to move back to D.C. to pursue a career in the foreign service and state department." 
On returning to the states, Aaron visited AU and had a moving conversation with Professor Dr. Abdul Aziz Said. He was confident after leaving Dr. Said's office that AU was the place for him.

After a quick stint as assistant information officer at the U.S. Embassy in Seoul, South Korea, he began the master's program in international peace and conflict resolution. "AU offered flexibility. I was able to work 30-40 hours a week while completing my degree," says Aaron. During school, he served as a program assistant at the U.S. Department of State as well as desk officer in the Bureau of African Affairs.

Now as a human rights advocate fighting to end war crimes and mass atrocities, Aaron works as the Associate Director of Research for the Enough Project, a Washington based human rights advocacy organziation. However, in a few months his wife, Caitlin Hall, MA/SIS '09, also a former Peace Corps volunteer, has been assigned to the USAID Foreign Service in Nairobi.

There are many unknowns in Aaron's future. "However, no matter where my career takes me, I will be working on social justice issues that affect international humanity rights and natural resource issues," he says.

Aaron will be speaking at the March 21 event "Waging Peace Through a Lifetime of Service" hosted by AU's Alumni Association, SIS, and the University Library. The event will include a symposium to celebrate the official launch of the AU Peace Corps Community Archive, which will feature pieces collected over time. Register soon as space is very limited.