Alumni Success Story
Adam Martin discovers the intersection of media and technology at the NMAAHC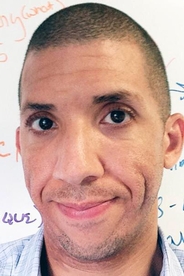 With a background in journalism, digital media production and technology, Adam Martin, SOC/MA '07, never pictured himself working in a museum. "I really didn't know the first thing about museums, other than that I enjoyed visiting them on the weekends." Adam has worked for organizations like BBG where he developed digital innovation strategies. He also spent a number of years at NPR managing the organization's digital media content. Working at a museum hardly seemed like an obvious next step for him. Yet, against all odds, Adam now functions as the Chief Digital Officer at the National Museum of African American History and Culture (NMAAHC), the newest and last Smithsonian museum on the National Mall.
It is well-known that the NMAAHC is the first museum of its kind to seek to understand American history through the African American lens. It is less known that the NMAAHC also represents the first Smithsonian institution to consider, from its inception, how to use technology to reach a broad audience through real and digital experiences. Even before it became a building of angled steel and concrete, the NMAAHC was actively engaged with the public through its website and Facebook account. Adam was particularly attracted by the museum's mission to enhance accessibility and inclusion through its various digital platforms. Although hundreds of visitors continue to pass through its doors each day, the museum's online presence remains the cornerstone of how it interacts with people and communities. For Adam, this was "something completely unique" about the NMAAHC.
Through its digital storytelling and community engagement, the NMAAHC provided Adam a great opportunity to apply his previous experience in a new way and environment. As the Chief Digital Officer, Adam helps the museum develop its digital strategy around the visitor experience. Adam is also charged with finding ways to expand the accessibility of the museum's digital archives and research materials to all level of learners interested in exploring African American history and culture. There have been nearly 1.3 million visitors to the museum since its grand opening in September 2016, but as Adam explains, not everyone can travel to D.C. or would consider themselves a museum-goer. It is up to Adam, with the help of the curatorial and exhibition staff, to use technology to lower those barriers. "We know how many people we can serve here in the physical museum. But online through those digital channels, it's almost limitless."
For Adam, using technology to share compelling stories that educate, engage and connect communities has been the perfect career. However, he admits that this path had not always been a clear choice. Adam discovered his true calling in the MA in Interactive Journalism program in the School of Communication at American University. "The program really appealed to everything I was doing at that time," says Adam. "I was sort of sitting in the early beginnings at the intersection of media and technology and trying to figure out which direction I wanted to go." The program spoke to Adam by integrating his two interests into one discipline.
Designed for full-time professionals, Adam describes the master's program as a great opportunity to collaborate and experiment with other students working in various careers. "The individuals in our cohort were a great group with really diverse backgrounds. Everybody brought something different to the program. And I think that that was by design." To this day, Adam has maintained the valuable relationships he forged in the program.
Adam values the insight and knowledge that he gained from the program through instructors like former director of the MA in Interactive Journalism, Amy Eisman, SOC/MA '76. "I think someone like Amy has really demonstrated in her own career that you've got to continue to evolve and grow your skills, be willing to take risks, and be willing to go out and experiment and try new things." Amy began her career as a journalist and now fulfills multiple roles including facilitating the JoLT Initiative in the School of Communication. "I think that she would be one of the first people to tell you that leading a group around game development for journalists is probably not something she would have imagined for herself some time back."
Adam has taken to heart the insight and knowledge that he gained from his time at American University. While he would have never pictured himself on the doorstep of the NMAAHC even a year ago, Adam can only imagine where he will land next. For the time being, Adam says he is glad to be a part of the transformative work happening at the NMAAHC. "I'm excited to be here. We're just getting started."