Alumni Success Story
Kogod Alum to Launch New Alumni Chapter in Germany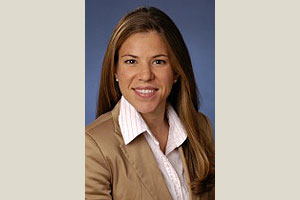 Under the enthusiastic leadership of Alexandra Saary, Kogod/BSBA '04, a new alumni chapter will be launched in Germany. The chapter will be the eighth international chapter recognized by the university and will serve the 129 American University alumni who call Germany home.
The mission of the chapter is to connect alumni, family, and students studying abroad, and to support the strategic goals of the university. They'll look to achieve those aims by fostering dialogue about the current state of the university, and by planning cultural, social, community service, and educational events to engage the alumni community in Germany.
Saary is uniquely suited to engage with alumni overseas. An international student, the daughter of a Hungarian father and a German mother, she became interested in American University because of its diverse student body and extraordinary study abroad opportunities.
As a prospective student, she had strict prerequisites for choosing which undergraduate institution to attend, and recalled several vitally important deciding factors.  "I had three main criteria that were personally important to me: location, access to the world, and academics," she says. American University fit all three requirements, and Saary decided to study at the Kogod School of Business.
Today, Saary is an international corporate auditor for Voith AG, a German industrial engineering firm where she has gained extensive experience in international business and management. She works with a team that is responsible for systematically auditing more than 300 of Voith AG's locations worldwide, and her team reports directly to the CEO.
Her work takes her around the globe to fascinating and often remote locations. One recent project brought her to Foz do Iguaçu in Brazil, where Voith Hydro had provided turbines and generators for a hydro-power generation plant. In describing the project, Saary proudly notes that "the energy produced was evenly divided between Argentina and Paraguay – and at the time, 100 percent of Paraguay's electrical energy was generated by the single hydropower plant!"
Saary's successful career also included previous work in investment banking and private equity, experiences she firmly believes were tied to her decision to attend an undergraduate institution with such a strong global reputation.
She also acknowledges the link between her professional achievements and the hands-on academic training that she received while at Kogod. She recalls her professors fondly, emphasizing that "they are not just teachers, they are life and mind shapers, people devoted to their students achieving excellence in business."
Her leadership of the Germany alumni chapter is an exciting next step. Saary looks forward to connecting people and giving back to her alma mater through the alumni chapter, and also hopes to expose American University students and alumni to Germany's vast array of academic and professional opportunities.
Over the next two years, the Alumni Relations Office will be expanding its network of alumni chapters overseas.  Learn more about starting a chapter.