Alumni Success Story
This Alumna is on the Right Track in the Railroad Industry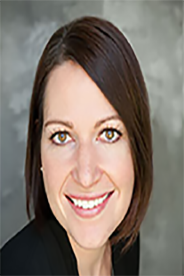 Allison Fayfich, SIS/BA '07, has made huge strides since her entry in rail. She was just honored as one of 20 Rising Stars in the railroad industry in the premier trade publication of the industry, Progressive Railroad. The annual award is designed to honor people under 40 years of age who are making significant contributions to the railroad industry; demonstrating leadership and professional accomplishment; and who have been identified by their peers, colleagues, supervisors, and clients as up-and-coming industry leaders. Allison is the youngest of the 2016 awardees.

Allison credits her experience at AU for igniting her passion for international economics. As an international relations student, she learned about the various ways international development affects different aspects of her field. She coupled her classroom experience with a stint in South Africa studying international development, taking advantage of the "great reputation" SIS had with various internships, and shining as the starting goalkeeper on AU's nationally ranked field hockey team. After she graduated from AU, Allison went on to get her MBA, then began her career in the rail business, where she served as a third-party intermodal business manager at Archer Daniels Midland Co. (ADM), a global food processing and commodities trading company.

"Over the past two years, Fayfich has passionately and persistently collaborated with ocean carriers, railroads, trucking firms, freight forwarders, brokers, [third-party logistics firms] and shippers to establish new lanes of intermodal traffic, and to develop additional supply chain solutions for businesses in the region," wrote Jennifer Bennett, a business analyst at ADM who nominated Allison as a Rising Star. "Her ability to build relationships is impressive."

Allison considers her inclusion on the list as her proudest professional moment, and gives two pieces of advice to current students and younger alumni. "Finding out what you don't want to do is just as important as finding out what you do want to do. After working for a Fayfich one summer, I realized it wasn't for me. That's what led me down [this] path," she says. "The railroad industry is very male-dominated. Dedication will get you through the door."