Alumni Success Story
Making a Difference, One AU Alumnae at a Time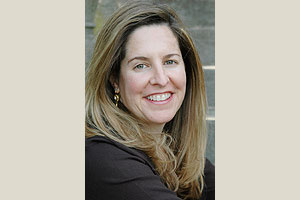 Allison Silberberg SIS/BA '84, a native of Dallas, Texas, chose AU because of its proximity to the heart of public service.  But it was the friendships that she formed with students and professors at AU, based upon their shared commitment to the welfare of others, which had a profound influence on her successful career as a writer, photographer, and advocate with extensive grant making experience.
Silberberg pursued a double major in International Relations and History, which accommodated her interests and helped her blossom.  She completed her undergraduate degree in just three years with the help of faculty and staff from across campus:  advisors Suzanne Skillings CAS/BA '72; Dr. Theodore Couloumbis, SIS/PhD'64; and Dr. Alan Kraut; and professors Dr. Valerie French; Dr. Tony Riley; Dr. Kay Mussell; Kermit Moyer, and the late James Mooney.
Some of the highlights of her years at AU included internships on Capitol Hill for Senator Edward M. Kennedy and at The American Historical Association.  She also served as president of the College Democrats, and was one of seven students who served as a representative on the University Senate.
Today, Silberberg is the author of a memoir commissioned by a philanthropic family.  Her writing has also appeared on PBS.org, in The Washington Post, and The Dallas Morning News.  She wrote an episode for a television series, "Mama's Family," and her photograph of Coretta Scott King gained national attention in 2006.
She is also the author of the book, Visionaries In Our Midst: Ordinary People who are Changing our World, which profiles several individuals making a difference in the United States, including two AU alumni, Layli Miller-Muro, WCL/JD'96, and Tom Lewis, SPA/BA'75. In her book, Silberberg says "you don't have to change your whole life.  But doing something will change your life."
In September 2009, Silberberg met again with five friends and SIS alumni.  Although they all hail from different geographic and religious backgrounds, their friendship is based on what they have in common: a life committed to public service.
Silberberg has remained involved with AU throughout the years in a number of ways.  She enjoys meeting with students as well as former and present AU professors and deans; has taught screenwriting at the School of Communication; has been a loyal donor, and has attended reunions and SIS networking events.  In October 2009, Silberberg and the Class of 1984 will also be celebrating their 25th Reunion.