Alumni Success Story
Young Alum Wins Two Webby Awards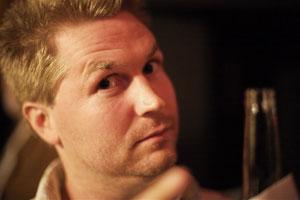 Most mornings, when Alex Albrecht, CAS/BS '98, wakes up, he grabs a cup of coffee in his LA home and, well, he plays. One day, the computer science graduate - who chose AU over other schools because he saw student improv-comedy troupe 'Mission Improvable' while on an overnight visit - might try out a newly released video game. Then again, he might go see a new movie screening weeks sooner than anyone else but the lucky Hollywood press he's become a part of, as a result of his cult online hit, "The Totally Rad Show."
"It's pretty low key," says Albrecht of his schedule, admitting he leads a fairly charmed life lately. "I know I'm a very lucky person and I'm very grateful I can make a living at this. I make more money doing this than I ever made doing computer programming."
In June, the cult favorite among computer techies added to his cyber celebrity following when he received two Webby Awards, the highest honor for material produced on the Internet, for two different ventures, both distributed via Revision3 Internet Television. One was a People's Voice Award for Best Variety Show for his work on the one-year-old "The Totally Rad Show," in which Albrecht and his buddies Jeff Cannata and Dan Trachtenberg review recently released movies, video games, television shows, and comic books.
The second Webby Award, also a People's Voice award, was for Best Technology Show for diggnation.com, a weekly video podcast in which Albrecht and friend Kevin Rose sit in front of their laptops and drink beer while summarizing the hottest news stories as voted on at Web site digg.com (which Rose cofounded) by Internet readers around the globe. Albrecht and Rose met while hosting the now defunct hit show, "The Screen Savers" together on cable's "TechTV."
"We do about 2.5 to 3 million viewers per month," says Albrecht of diggnation.com's success. "We get anywhere from 350,000 to 750,000 viewers per episode. We've been very happy with those numbers, and we've been able to monetize it. We were actually the first [online] show to get Go Daddy to sponsor us. Now GoDaddy sponsors like 40 different (online) shows, and we've been sponsored by Dell, Sony, Microsoft, Earthlink, IBM... We've been written up by Ad Age as being on the forefront of getting advertising for Web shows."
 
 "I'm just so happy this is where my career has gone," says Albrecht. "When I left AU, this is definitely not the path I saw for myself. I was like, 'I'm going to go to LA and go into movies and television.' But the Internet has made it easy for people who perform well to get in front of people."
Perhaps his wish to be on TV will happen yet. In March 2009, Albrecht and Rose were featured guests on "Late Night with Jimmy Fallon."