Alumni Profile
Board Member Amy Jones Realized Her Dream of Working on the Hill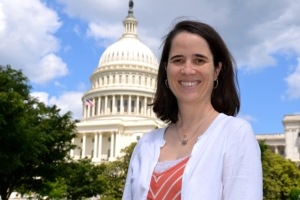 "I am slightly unusual among many of my friends in that I am doing exactly what I've wanted to do since sixth grade," says Alumni Board member Amy Jones, SPA/BA '99, WCL/JD '03. Her sixth grade social studies teacher and a family trip to Washington, D.C. convinced a young Amy that she wanted to work on Capitol Hill one day. "I came to AU for college and law school because I felt it was the best place to study that would expose me to politics and Capitol Hill," she says.
After earning both her bachelor's and law degrees from AU, Amy's dreams came true, and she landed a job on the Hill. She now serves as director for education and human services policy for the majority staff on the Committee on Education and the Workforce in the U.S. House of Representatives. In this role, she oversees the House's education policies.
Amy says the most rewarding part of her job is knowing that "the policies we are pursuing will help others, particularly the underserved, be able to access and achieve their postsecondary [education] goals," adding, "I love the energy and the quick pace on Capitol Hill. There is always something interesting happening."
A visit to campus on Accepted Students Day convinced Amy that AU was the right choice for her. "AU was close enough to the city that I knew there would be a lot of different things to do and see, but it also had the benefit of having a more enclosed campus, which I really liked," she says. "And I liked my undergraduate experience so much, that I went to WCL for law school."
As an AU student, Amy was involved in numerous activities. "I participated in the Freshmen Service Experience, played lacrosse during my freshman and sophomore years, worked at the front desk of McDowell Hall, studied abroad in London for one semester, interned on Capitol Hill, and worked at a few different law firms because I was trying to decide if I wanted to go to law school," Amy recalls.
Of her time on the American University Alumni Board, Amy says, "I have thoroughly enjoyed my service on the AU Alumni Board and becoming a more engaged alumna over the past several years. I am continually amazed by the students attending AU now and love being able to serve as a mentor or resource to them."