Alumni Success Story
Alumni Board Member Shares Passion for Giving Back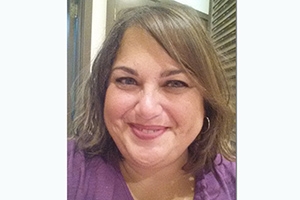 "I fell in love with the campus when I visited. What an exciting place to live and study," says Amy Lampert, SOC/BA '94, about her first visit to AU during her senior year of high school. "As soon as I saw the campus, I knew that I wanted to be there. There's nothing quite like Washington, DC," she adds. 
After arriving on campus, Amy was involved with the American University Resident Hall Association (serving as vice president during her junior year), worked at the Anderson/Centennial Hall front desk for three years and participated in many leadership development opportunities on campus. She also worked on the yearbook and The Eagle newspaper and was active with "AU Students for Choice."  
Her most memorable AU experience occurred during her junior year when President Bill Clinton came to campus. "I was able to sit in the second row and shake his hand," says Amy. Not long before that, she stood along the inaugural parade route while the Clintons walked past. "That's not something you get to do anywhere else in the world. It has to be one of the coolest things I've ever done," she adds.
During her time at AU, Amy secured internships at locations as varied as the House Majority Leader's office, the Jewish Federation of St. Louis, US Weekly magazine in New York City, and the Make-A-Wish Foundation. "My internships gave me invaluable work experience that I know contributed to being able to get a job right out of college," Amy adds. 
Amy's first job was in the development office at Sidwell Friends School where she worked on publications. "I was able to immediately put my journalism degree to work," reports Amy. "My ability to write and edit as well as multi-task have been essential in everything I've done since graduation whether it's been professionally or in graduate school," says Amy. 
Born and raised in St. Louis, Missouri, Amy earned two masters of arts degrees since leaving AU. One degree is in writing and publishing from Emerson College and the other is a business management degree from Webster University. Amy is currently vice president at Time Square, Inc., a family business where she works in real estate and investment management. She manages investments as well as a wide-ranging portfolio of residential and commercial properties. Amy is pleased this position provides her with the flexibility to spend time with her 10-year-old son, describing herself as "a very hands-on mother." She continues to reside with her family in St. Louis and also spends time at a second home in Florida.
An active volunteer, Amy is enthusiastic about giving her time to AU as well as to her local community. She can be found volunteering at her temple, at the Jewish Federation of St. Louis, and in many other activities in her region. As an alumna, she enjoys giving back as a member of the AU Alumni Board and as an Alumni Admissions Volunteer. As an AAV member, Amy enjoys welcoming incoming freshmen and their families to the AU community by hosting summer send-off events at her homes in both Missouri and Florida. "I've really enjoyed meeting prospective students and their families over the years and sharing my passion for such an exciting place with people who are as excited about AU as I still am," she adds.
Amy observes that much has changed at AU since she attended in the 1990s. She finds herself wishing she could go back to AU and take advantage of all it has to offer. "As beautiful as I thought AU was back in the 1990s, it's even more beautiful now," she adds. She also remarks upon what she sees as an evolution of the student body. "Everyone was active and passionate when I was there, but today the students are more impressive than ever. They all are so driven, ambitious, devoted, and passionate about everything in life. They have lofty goals that I know they will achieve," she says.
Although she is undoubtedly busy with both work and family, it is clear that Amy is passionate about volunteering in both her hometown as well as for the alma mater with which she fell in love 25 years ago. "I want to do whatever I can to help AU continue to grow and thrive," she exclaims.