Alumni Success Story
Antitrust Attorney Andrea Murino, SPA-CAS/BA '98, Brings Multi-Faceted Experience to Alumni Board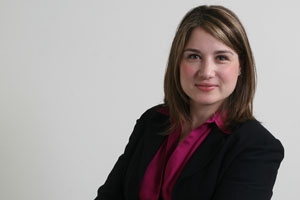 Andrea Agathoklis Murino, SPA-CAS/BA '98, vice president of the American University Alumni Board, always loved the show L.A. Law, but she loves her work as a real, live antitrust attorney even more. In her position with a firm specializing in legal services for technology, life sciences, and growth enterprises, Andrea eschews traditional courtroom law for the intricate world of antitrust services, litigation, counseling, mergers, and acquisitions. She is a veteran of both sides of the antitrust table, having worked for both the Department of Justice's Antitrust Division and the Federal Trade Commission, an intentional career move that has proven advantageous to her current clients.
Part economist, part businesswoman, and, of course, part attorney, Andrea loves that her work appeals to the many pieces of her personality. While she always knew she wanted to attend graduate school, her favorite class while a student at AU was an economics course called Industrial Organizations, which focused on how markets are organized. Her interest in economics, and business as well, is essential to her current work, which requires a level of flexibility not present in all areas of the law. "I get to be more creative and experimental in creating solutions to problems that haven't been solved before," she notes.
The variety in her professional life seems reminiscent of her undergraduate years at AU. "I had so many internships!" Andrea exclaims, recalling a range of positions with the Senate, an embassy, and a women's advocacy group. But she remembers her college experience as well-balanced, with a focus on both academics and fun. A leader in her sorority, Delta Gamma, Andrea notes that her best friends are still people she met at AU - the biggest reward she could have asked from her undergraduate experience.
As for her position as vice president of the American University Alumni Board, Andrea feels grateful for the opportunity. "With all I've gained from AU, to be able to give back and help others to have that experience as well, is the least I can do," she says. "AU is a wonderfully excellent place and I want everyone else to know that."